Willie Tyler & Lester have traveled through all of the 50 states doing what they love – making people laugh.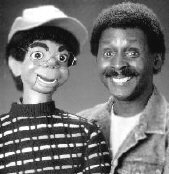 They perform in all kinds of venues – comedy clubs, colleges, Las Vegas hotels and corporate shows.
They have worked with such greats as Frank Sinatra, Tony Bennett, Lou Rawls, Dolly Parton, Whoopi Goldberg, Jay Leno, Barbara Mandrell and David Letterman.
They have appeared at the Apollo Theatre in Harlem, the Santa Rosa, California, County Fair, The "Super Dave Osborne" Show on Showtime and have appeared in national commercials on prime time television. Other television credits include, "Pacific Blue" (USA Network), "Parenthood" (WB Network), "Primetime Country" (TNN), "In The House" (NBC), "Comedy Relief" (HBO), "ABC Weekend Specials" (ABC-TV), "Make Me Laugh" and "Hollywood Squares."
Although he was born in the woods and worked his way out, once you have seen "Lester" in action, you will never forget this little "chip off the ole block."
Willie Tyler & Lester may be available for your next special event!
For booking information, click HERE!
Rating:
DG, DPG
For ratings guide, click here.

Based:
..in California

Showcase video available.