How To Book JON STEWART For Your Event!
Jon Stewart may be available for your next special event!



Jon Stewart is one of America's top social and comedic voices. He first came to national prominence with his critically acclaimed MTV talk show "The Jon Stewart Show." His other television credits include the CableAce-nominated HBO comedy special "Jon Stewart: Unleavened," guest hosting duties on "The Late Late Show with Tom Snyder" and appearances on "NewsRadio" and "Mr. Show with Bob and David." Prior to taking over "The Daily Show," he played himself in a recurring role on "The Larry Sanders Show." He has appeared in such feature films as "Playing by Heart," "The Faculty," and "Big Daddy."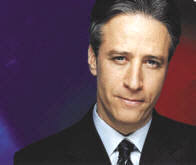 From his anchor chair of Comedy Central's "The Daily Show With Jon Stewart" he "breathed new life into this show," said The New York Times. Taking over as an executive producer and anchorman of "The Daily Show" in January 1999, Jon's presence garnered a Peabody Award for Broadcast Excellence, an EMMY for writing in a Variety TV series and a doubling of the ratings for the series on Comedy Central.
2002 started with a bang for Jon. In February, for the second straight year, he hosted The GRAMMYS for CBS. Following that, Jon hosted NBC's Saturday Nite Live on Saturday, March 9.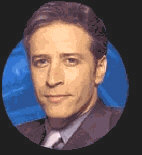 On the feature film front, Jon Stewart co-starred with Robin Williams and Ed Norton in "Death To Smoochie," which premiered in March 2002. "Smoochie" (directed by Danny DeVito) is a hilarious parody of the back-stabbing craziness behind the scenes of a children's television show.
As a novelist, Jon Stewart took the path less traveled with his debut book, "Naked Pictures of Famous People" (William Morrow). A collection of fictitious and humorous what-if essays, "Naked Pictures" has appeared on many best-sellers lists, including The New York Times Best-Seller List. He has contributed pieces to "The New Yorker," "Esquire," and "George."
He performs for corporate events as a host or as a stand-up comedian.
Jon Stewart may be available for your next special event!

For more suggestions, proceed to the next page.
Click here --
Comedians Roster
Or, click on one of the below links --
Music Menu
Fast Index
Entertainers Directory

Home