The Flying Karamazov Brothers have been "in the biz" since 1973 performing everywhere.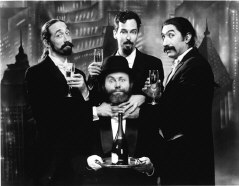 From their early days on the streets of San Francisco to more recent appearances on Broadway; they have trod the stages of the most prestigious theatres in the English-speaking world. From Singapore to Scotland they've toured through every state in the Union, and they've traveled silver screens, both large and small.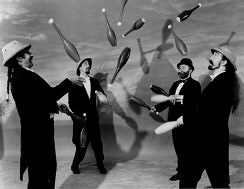 Though generally performing only as themselves, The Flying K's have shared the stage with such people as Frank Sinatra, The Grateful Dead, Dolly Parton, The Who, Robin Williams, Joan Rivers, The Blues Brothers, Bobcat Goldthwait, Kenny Rogers and with Peter Schickele (P.D.Q. Bach) at Carnegie Hall.
They have also performed with numerous symphony orchestras around the country, including The National Symphony, The Boston Pops and The Cleveland Orchestra.
In addition to their vaudevillian shows, the OBIE award winning Karamazovs have created and performed in their own adaptations of Dumas' "Les Trois Musketeers," Stravinsky's "L'Histoire du Soldat" (The Soldier's Tale), Shakespeare's "The Comedy of Errors" and Dostoyevsky's "The Brothers Karamazov."
The Flying Karamazov Brothers may be available for your next special event.
---
Meet the Members of ...
Flying Karamazov Brothers
Paul Magid (Dmitri)
"I just think everyone should know that my bio includes a degree in English Literature earned 11 years after graduation from a college without grades. That I pay for the upkeep and registration of a '69 Citroen sedan I don't own. That my dog is a border collie who flunked sheep herding school. That I own many volumes of books about mythology, angels, King Arthur and W.W.II. That my office is a mess. That I keep clothes that I wouldn't be caught dead in. That I have a '46 Chevy school bus, with a VW van riveted on top and vegetables painted on the hood, parked right next to my house. That I adore my wife Becca and my daughter Pesha. That the newest little Chace/Magid, Rebecca (who was born on June 19, 1997 and is adorable), shares her birthday with FKB Company Manager, Rhonda Sable, baseball legend Lou Gehrig, comic genius Moe Howard and Fred Waring, the inventor of the blender."
Howard Jay Patterson (Ivan)
is not what he appears. Yes he is. For the first half of his life he (and those around him) believed he would evolve into a member of the zoological priesthood (or perhaps rabbinate), delving into the ineluctable mysteries of the ecosystem; the second half has on the contrary found him as co-founder and musical director of FKB. He suspects his mother has forgiven him at last, ever since he played the euphonium accompanied by the National Symphony at the Kennedy Center. He, along with his wife, artist/counselor Seiza de Tarr, and his sons, actor Jasper and polymath Gavriel, is in the process of migrating from his rural Washingtonian stomping grounds of the past decade-plus to a new urban existence of plentiful goods and accessible services in that enlightened metropolis, Portland, Oregon, taking up residence with the rest of his molecular family, the de la Rochas. The Future lies ahead.
Michael Preston (Rakitin)
is not able to disclose his biography because he is currently enrolled in the Government Witness Relocation Program, after testifying for both sides in his parents' divorce proceedings in 1967. He presently lives at 666 Park Avenue in NYC under the assumed name of Rush Limbaugh with his new wife, Marlene Dietrich. He wants to thank all of the animals in his life: Gus, White Cat, Fat Cat, Bear, Big Head, Henry, Eddie Giacomin, Sophia, Ratso, Darryl, Maggie and Punch for their never ceasing generosity and inspiration and their tremendous impact on his emotional and artistic development.
Sam Williams (Smerdyakov)
was born long ago in a city far, far away, called Seattle. Orphaned at an early age, he was raised by his aunt and uncle. Two druids told him about a rebel, princess Lala, being held captive by an evil empire. He hooked up with his father's mentor, Dobie Dobie Dobie – a knighted British actor – and went to rescue her. With Stoop Solo, a smuggler, and his hairy sidekick, Tobacco, a rookie, they traveled in Solo's car, the Millennium Fairlane. They found the Princess aboard the evil empire's flagship vehicle, the Death Car. Dobie fought with the head bad guy Dalph Nader, while the rest escaped. Sam himself blew up the Death Car and they all won gold medals. He loves his wife of eight years, the beautiful Barbara Joan Warren, and their wonderful, twin boys, Joshua and Zachary. He believes he will someday be King.
---

Rating:
DG
For ratings guide, click here.

Based: ..in Washington state / based nWashington

.Orchestra charts available. / OrchestraCharts