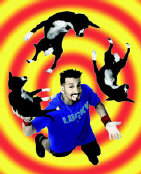 Daniel Rosen is a polished juggler/comedian who presents a hip blend of new wave style and old favorites. He can climb stairs on a unicycle, juggle dangerous hardware, tell jokes, do impressions, play a harmonica (and a mean banjo) and clear the stage by eating props.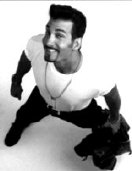 Born on on the mean streets of L.A. and raised by wild dogs, comedian Daniel Rosen is best described as having the inventiveness of off-Broadway shows "Stomp" and "Blue Man Group," but with the in-your-face appeal of rappers, the Beastie Boys and Wu-Tang Clan.
At first glimpse, his wild-eyed, psychotic-looking demeanor and muscular stance, bedecked in heavy rapper-style chains, makes you think you're in for trouble. However within minutes, he has commandeered his audiences' attention transforming into a number of bizarre but curiously engaging characters using his street-crafted inventions, multi-instrument talents and anti-gravity defying powers to mystify audiences.
Daniel can often be seen frequently annoying Don Johnson on CBS TV's "Nash Bridges," as Eddie Green, the nutty street informant/street performer/extreme athlete.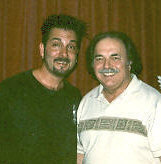 Daniel Rosen with
Richard De La Font
With appearances on more than 200 TV shows to date, including "The Tonight Show," "Tracey Ullman," a recurring role as "Scab" on ABC's "Head of the Class" and a stint as co-host of Fox TV's "The Late Show." Daniel is a performer able to morph at a second's notice, into new and always, unimaginable talents.
Daniel got his start as a street performer in "the school of "hard knocks" – on the streets of L.A.. For Dan, this was the beginning of his audience-pleasing experiences. Rather than ducking the shrapnel that flew his way, he collected it, building imaginative props and musical instruments: There's his trademark "Swiss Army Cat" which opens to reveal wondrous household implements, a double neck guitar/banjo made in his own image, a helmet which comes to life and a time machine that transports him back to the Beatles era.
Creating a parade of characters from his colorful past, Daniel presents an exciting multi-dimensional show seething with raw power. His one-man show, "Looka What Jus' Crawld Outta The Dumpsta," reflects his own personal experiences whether it's derived from standing in the food stamp line or soliciting motorists for spare change at the end of a freeway ramp. Spurred by challenges, borne by the hardship of his life, Dan's characters reflect his own complex creativity: unusual, bizarre, off-beat, but always easy to laugh at.
More than just a comedian, a juggler, a musician, acrobat or performance artist, Daniel Rosen is an artist who paints life as he sees it. Never sure what direction he's going to take, he keeps audiences on their toes all the time, giving them more than they expected...every time!
Part Steve Martin, Tommy Smothers and Gallagher, Daniel is high-energy, pure originality and non-stop fun for everyone.
Daniel Rosen may be available for your next special event.

Rating:
DG
For ratings guide, click here.
Born: ..in California / born nCalifornia
Born: ..in Los Angeles / born LosAngelesCA
Born: in 1963
Based: ..in US
Based: ..in California / based nCalifornia
Based: ..in Los Angeles / based LosAngelesCA