What makes The Passing Zone so special, you ask?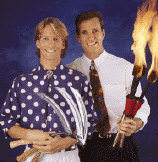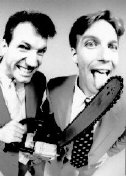 They have set FOUR Guinness World Records. They have been GOLD MEDALISTS for FIVE consecutive years at the International Juggling Championships!
In addition to their award-winning juggling skills, this show is funny! Really funny. Just ask Johnny Carson, who repeatedly invited them to appear on The Tonight Show. They even made Prince Charles laugh, at the Royal Command Performance in London.
These two guys are taking the art of juggling to new heights, shattering the preconception that jugglers belong in a circus. After seeing their show, you may for the first time become a true fan of juggling!
Headlining many of America's hottest comedy clubs, from L.A. to New York, this is one of the most sought-after comedy acts in the nation.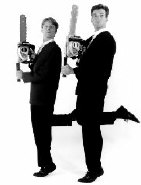 Their non-stop humor not only surprises audiences, but has them doubled over, wiping tears from their eyes. Funny, classy and entertaining, Jon Wee and Owen Morse are a huge hit with audiences everywhere.
Just when you thought it was safe to plié... The Passing Zone introduces "The Chainsaw Ballet." This unique and daring comedy number offers the perfect blend of fluid beauty and spine-tingling terror. Join us in a world where the dangerous meets the absurd, and where the boundaries between silk tights and roaring power tools begin to blur. It's Baryshnikov meets Bob Vila!
Jon and Owen explore their delicate feminine side without losing touch with their fascination for loud, exhaust-spewing machinery.
To the haunting strains of Strauss' "On the Beautiful Blue Danube," the two dancers appear. They are graceful. Sort of. They are beautiful. At certain moments. The room is filled with the drama of a ballet production, as Jon and Owen twirl, dance, and tempt fate. The choreography culminates with the heart-pounding climax where three saws, engines roaring, are being hurled between them. This entertaining new work must be seen to be believed.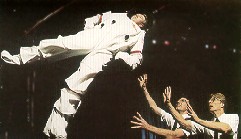 The Passing Zone now juggles people!
That's right! Three volunteers from the audience (maybe upper management, employees, or your customers) are sent flying through the air in seemingly impossible patterns, to the audience's screams of delight. Three recruits become the stars of the show! National heroes. Jugglenauts!
Nothing like this has ever been done before. It is unique, ground-breaking, hilarious and it is what makes The Passing Zone the only choice for high-impact, out-of-this-world entertainment. Surrender to the cosmos, and watch your people fly!
This piece can be performed anywhere with adequate space. It uses a freestanding rigging structure that does not need to be attached to anything. While seemingly death-defying, this piece is not dangerous.
If you are looking for laughter and fun, this is a sure thing!
You've heard of key-note speakers, but key-note jugglers?
The best Keynote Speakers do a lot more than just present a meaningful and informative message, They act as a springboard to launch your imagination, expand your perception and open new doors to possibility.

Jon and Owen do that. And they do it in ways you have to see to believe. Juggling is the perfect metaphor to describe what people do in their work day and how they balance life's many demands. And these guys know about teamwork, learning from mistakes, and reaching goals.

The Passing Zone may be available for your next special event!

Rating:
DG
For ratings guide, click here.

Based: ..in California