PRINTER FRIENDLY PAGE. To view this artist's HOME page, click or visit: https://www.delafont.com/Ventriloquists/dan-horn.htm **
Booking Dan Horn - Ventriloquist - © Richard De La Font Agency, Inc. - For serious booking requests only, click here: For More Information
"International Ventriloquist of the Year"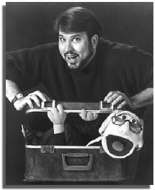 Stand-up ventriloquist Dan Horn says "Dummy is politically incorrect. They prefer to be called Mannequin Americans!"

The recipient of the 1993 International Ventriloquist of the Year Award, comedian/ventriloquist Dan and his cast of "several" create the impression of an ensemble troupe. When "they" take the stage, it's hard to keep in mind that it's a one-man show.
In the campus market Dan and company have received some impressive nominations: 1994 and '95 Entertainer of the Year, Best Comedy, Best Male Performer - Campus Activities Today Magazine and 1993, '94 and '95 Entertainer of the Year from N.A.C.A.
His television credits include, "Showtime Comedy Club Network," Fox-TV's "Comic Strip Live" and "Sunday Comics," A&E's "An Evening at the Improv," VH-1's "Stand-up Spotlight," NBC's "Vicki!" (where one of Dan's characters referred to Ms. Vicki Lawrence as Oprah!) and "TV's Bloopers and Practical Jokes," CBS's "Entertainment Tonight," ABC's "Fridays," TNN's "Funny Business with Charlie Chase," and "The Penn and Teller Show." Sets of Dan Horn's work from these shows and others have been aired many times and continue to be popular and air on comedy cable channels.
Headlining at major comedy club chains led to engagements at Harrah's in Reno, Nevada, and the Sheraton Valley Forge in Pennsylvania, where Dan was the featured comedy act in the reviews Zing! and Champagne on Ice. At the Reno Ramada he headlined The Comedy Circuit and Forty Isn't Fatal.
Among many of the notable performers with whom Dan Horn has worked are: David Spade, Rosie O'Donnell, Dana Carvey, Kip Adotta, Steve Landesberg, Bruce Baum, Richard Jeni, Brad Garrett, Gabe Kaplan, Pat Paulsen, Morey Amsterdam, and Jackie Vernon. Dan Horn has also had the opening honors for Rita Rudner and the host of the Tonight Show, Jay Leno.
Musical acts for whom Dan Horn has opened include Tower of Power, jazz guitarist Stanley Jordan and contemporary artist Al Stewart.
The recipient of the prestigious International Ventriloquist of the Year award, Dan Horn is considered by both his peers and audiences to be one of the best ventriloquists in the nation. His excellent sense of timing, with audiences praising his flawless ventriloquism, definitely makes Dan Horn one of comedy's most popular performers.
What others say --
Acushnet Company:
"You are not only very talented, but professional and I thoroughly enjoyed every single show. Doing fourteen shows on three different shifts, over a week's time, I know must have been a marathon; but you worked hard to make every performance as great as the first! You most certainly made my job easy." -- J.L.C., executive assistant

Choptank Electric Cooperative:
"We thoroughly enjoyed Dan Horn and his mannequin Americans, it was the perfect entertainment for our group. There was just enough audience participation to make it warming without being drippy. Danís ability to size the group and determine the level of humor necessary to connect to them was outstanding. As you know the demographics for our group were, mostly over 55 years of age, semi religious, rural farming community and Dan hit a home run with all of them. You have a great resource in Mr. Horn and he made me look like a great talent scout." -- Robert P. Behlke


Los Angeles Times:
"Dan Horn is a ventriloquist. And a first rate one."


Variety:
"Dan Horn gets so much happening with a puppet, it's difficult to see how he is able to do it all."


The Times-Herald:
"Horn's performance alone is worth the price of admission."


Times Newspapers:
"Orson's feisty remarks have such timing and polish that you wonder: Is it Memorex or is it Dan Horn?"


Rosie O'Donnell, VH-1 Stand-up Spotlight:
"A very talented man. So funny, we had to have him back!"


Amerinet:
"Dan was outstanding and exceeded our expectations with his unique ability to make people laugh."


Century 21 of the Southwest:
"On behalf of the entire Regional staff, I would like to express our gratitude. Your humor and expertise added a special touch and will keep people praising you for years to come."


SUNY/Delhi (NY):
"Dan was a hit. An audience of over 700 students, many of whom thought they were too cool to enjoy puppets, were among the masses who went absolutely crazy for Dan's act!"


Emby Riddle Aeronautical University:
Arizona
"Dan was absolutely hilarious and exceedingly entertaining. In considering the talent required to carry on two conversations simultaneously, I was impressed to see Dan carry on three, and in one case four, conversations at the same time!"
Dan Horn may be available for your next special event. For booking information, click HERE!
---
To book Dan Horn for your special event, contact Richard De La Font Agency, Inc.
For faster service, do this first - click on this link: https://www.delafont.com/contactselect.htm
For serious booking requests only - no exceptions. Thank you for your cooperation.