Jim Barber's refreshingly unique approach to the art of musical comedy and his incredible vocal skills have earned him the reputation as one of the most original talents performing today.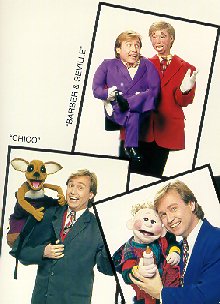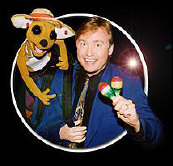 He is amazing not only on stage for national corporate events and international resorts, but also in the voice-over recording market with his multi-octave singing voice and wide-range of characters of all types.
Jim was the featured comedian in the Glen Campbell Goodtime Show in Branson, Missouri for three years and continues to perform with Glen at various events nationwide. He has also appeared with Reba McEntire, Roy Clark, Debbie Reynolds, Crystal Gayle, The Bellamy Brothers, The Forester Sisters, Roger Miller, Louise Mandrell, The Statler Brothers, Eddie Rabbitt, The Temptations and many, many others.
Winner of numerous awards, including the National Association of Campus Activities Association's Comedy Entertainer of the Year, International Ventriloquist of the Year, and Showtime the Movie Channel's Funniest Person in Tennessee, Jim is no dummy. He never gives a wooden performance because he knows the business of being funny.
What makes Jim's performances stand out from the ordinary is his clever incorporation of traditional theatrical and magical principals to create an unforgettable evening of ventriloquism. Ever the master of the moment, Jim Barber tickles the fancy of audiences who applaud his ability to adapt and ad-lib, turning natural sounds into "supernatural" sounds.
In addition to appearances at various comedy clubs, hotels, conventions, corporate and industrial shows and fairs, he was featured for two seasons on the General Jackson Showboat at Opryland U.S.A. in Nashville. He has performed in every state in the U.S. except Hawaii, but his grass skirt is packed and ready to go!
Jim Barber has won numerous awards including Campus Comedy Entertainer of the Year by the National Association of Campus Activities as well as earning the Association's nomination for Campus Entertainer of the Year!
From the operatic tones of Seville, to his funny infant Baby, to the charming Chihuahua Chico Pete, Jim Barber is an utter genius when it comes to creating the perfect conversation pieces - characters that come alive with a special magic.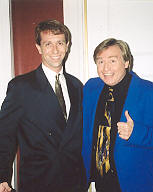 Marc Nelson of the
Richard De La Font Agency
with Jim Barber
How does he do it? His lips are sealed! As one of the most sought-after performers in the country, Jim Barber has proven his talent for carrying the show, whether on the main stage, in an intimate setting, or acting as emcee. When he starts throwing his voice around, watch out! He really packs a punch, leaving his audience sore from laughter with his knockout performance.
Jim Barber always makes a strong impression. Complimentary word of mouth follows him wherever he goes, and it's not just hearsay. As a genuine audience pleaser, he knows the importance of getting everybody into the act and a lot of laughs come with the cooperation of on-stage volunteers. Puppets or people, everyone participates in his phonetic fun.
In show after show, Jim Barber earns amazing accolades, the kind that are measured in loopy laughter, wild applause and standing ovations. Audiences everywhere are vocal in their appreciation for the one ventriloquist who is a veritable virtuoso. Jim Barber is the kind of act that leaves everyone talking... and that should be music to your ears!
What others say about Jim Barber...
Country Fresh Dairies:
"I have only one word to describe Jim Barber & Seville, and that is fantastic! I am so happy that you convinced me to use Jim because he made our award banquets the best ever! Our employees are still talking about it. We like Jim because he has shown us that you can still get super clean, all-American types of entertainment."
-- William O. Reynolds, Director of Human Resources
Associated General Contractors of South Dakota, Inc.:
"Thanking you and congratulating you on your performance at our Annual Convention is easy...you were just great! You are highly professional – your ventriloquism is as good as I've seen – the various voice impersonations are excellent – your personality is terrific – you really relate to the audience. Those in attendance have confirmed my opinion – everyone enjoyed the show!"
-- James R. Keyes, Executive Director
Quad City Times:
"Jim Barber is the best ventriloquist I've ever seen. He cleverly made his entrance as the dummy, being carried out by the real dummy and ended singing the beautiful "Bring Him Home" from "Les Miserables," with a baby dummy singing along. Sounds awful, but it was beautiful and very clever."
-- Shirley Davis
Music Country News:
"Adding even more smiles to those who visit the 2200 seat Goodtime Theatre is ventriloquist/comedian Jim Barber. Running for president on the 'Dummycrat' ticket, Barber and his partner Seville provide humor that is both timely and suited to Branson crowds, who like their comedy clean."
-- Brian H. Seitz
The Unofficial Guide to Branson, Missouri:
"This may be one of the surprise hits in town. Comedian/Ventriloquist Jim Barber, whose routine combines grand opera, double-dummy voicing, contortionism and audience-participation 'Karaoke' – really, more ventriloquism – is the best change-up performer in town!"
-- Eve Zibart and Bob Sehlinger, Macmillan Travel
The Kentucky Post:
"Jim Barber and Seville, his opera-singing alter ego, opened the 17th annual Ventriloquist Convention Wednesday with a one-man, multi-personality show that drew the audience to its feet again and again!"
-- Peggy Kreimer
The Ventriloquist's Guild Journal:
"One of the most outstanding entertainers I've ever seen perform ventriloquism is Jim Barber. This unassuming gentleman is a fireball of zaniness on stage. Barber's one-man variety show is filled with fun and has made him one of the most sought-after acts in the field."
-- John Arvites
Jim Barber may be available for your next special event!
For booking information, click HERE!
Rating:
DG, DPG
For ratings guide, click here.

Born: ..in South Dakota / born nSouthDakota

Based: ..in Missouri / based nMissouri
..in Branson / based BransonMO