Jay Johnson, the former star of the television sitcom "Soap" is considered technically one of the best ventriloquists ever. The illusion of life that he creates on stage has to be seen live to be believed.
The myth that ventriloquists are possessed with a dual personality could be true about Jay. He has the rare ability to combine entertainment with business sense. He sees his audience as the customer and his act as the product – adapting the product to meet the needs of the market. He understands the "show business" and the business audience.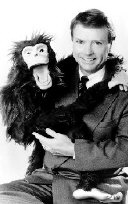 Although known mostly for his performance on the controversial show "Soap," Jay Johnson has been involved in other television shows as well. He has been a guest star on many sit-coms – both as a ventriloquist and as an actor. He has written and produced network and cable variety shows and hosted two syndicated television series as well as a five-year series of comedy specials for a hardware company.
Jay is a regular guest on "The Tonight Show" and did a series for Cannell Films and CBS. He developed and wrote two series and a movie of the week, as well as his dream project of producing a "one-man ventriloquial stage show."
He is much more than just an inventive ventriloquist, comedian, writer and producer. Jay is also a very good salesman. The product that he sells is his imagination.
What others say --
Oldsmobile:
"All of us at Oldsmobile were delighted to have you participate in our Announcement meeting. We knew that your role was an important part of our meeting and you didn't let us down.
The ability of free expression that "Bob" brought to the audience was perfect. You were able to handle those tough issues in exactly the way every dealer in the audience could appreciate. And based on the applause, your routine was truly enjoyed by everyone.
Again, on behalf of the entire Oldsmobile team, thanks for being with us and best wishes for the future." --D.E. Lahti


Cotter & Company: (Warehouse Distributors & Manufacturers)
"Thank you for your participation in our National Sales Meeting. Your presentation was extremely well received by all of our attendees.
Everyone indicated this year's meeting to be the best and most informative that they had ever attended. Your help in achieving this goal was greatly appreciated."
-- Dan Burton, National Member, Development Manager
-- Dave Patrizi, Assistant National Member, Development Manager
Notable credits include --
Television:
Soap
Broken Badges
Home Box Office (HBO) -- two specials
The Tonight Show
David Letterman


Shared the stage with:
Whitney Houston
Melissa Manchester
The Pointer Sisters
Tony Bennett
Dick Clark
Harry Anderson
David Letterman
Neil Sedaka
Jay Leno
Garry Shandling


Corporate clients include:
Allstate Insurance Company
Arthur Andersen & Co.
Hardee's
Lincoln/Mercury
Nabisco
Pella Windows
Pontiac
Amway
GMC
IBM
McDonald's
Northern Telecom
Pepsi-Co
State Farm Insurance
Jay Johnson may be available for your next special event!

Rating:
DG
For ratings guide, click here.

Born: ..in Texas / born nTexas
..in Richardson / born RichardsonTX
Jul 11, 1949

Based: ..in California / based nCalifornia
..in Los Angeles / based LosAngelesCA