Jim Teter (tee'-ter) is more than just a ventriloquist, he is a versatile powerhouse performer. He utilizes stand-up humor, political satire, sound effects, impersonations and ventriloquism to produce a one-of-a-kind corporate program.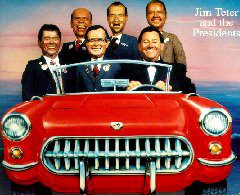 Jim has performed in 27 countries, the White House Press Corp Banquet, the Mike Douglas Show, The Tonight Show, the Statler Brothers show and an HBO Special with Steve Allen.
Jim Teter has performed with some of the biggest stars in show business: George Jones, Statler Brothers, Roy Clark, The Commodores, Loretta Lynn, Dolly Parton, Merle Haggard, The Osmond Brothers, Tony Bennett, Red Skelton, Dottie West, The Gatlin Brothers, Reba McEntire, Eddie Rabbit, Mel Tillis, George Goble, Mickey Gilley, Crystal Gayle, Vikki Carr, John Davidson, Tammy Wynette, Bobby Goldsboro, Shecky Greene, Pearl Bailey, Johnny Lee, Dr. Hook and band, Juice Newton, Marshall Tucker Band, Frankie Lane, Box-Car Willie, Ronnie McDowell, Louise Mandrell, The Lennon Sisters, Vince Gill and many, many others.
Jim's way of being topical with humor is never offensive. From moment to moment he may be reading topical jokes from the newspaper, touching on political and current events, or portraying one of his many characters, such as Vernon Viper the famed Oklahoma rattlesnake hunter.
The routines he does with President Clinton, Bush, Reagan, Carter, Ford and Nixon are truly classics in comedy. This is a dynamic, wholesome, totally entertaining show that could be a part of your next program.
Experience for yourself Jim Teter – this one man parade of the stars!
Jim Teter may be available for your next special event!

---
What others say about...
Jim Teter
Oklahoma Municipal League:
"I just wanted to let you know how much we enjoyed your performance during our annual conference banquet. I have yet to talk to anyone who did NOT enjoy your performance. In fact, you are getting rave reviews from everyone I talk to. It always makes my job such a pleasure when the entertainer is well received by our municipal officials." -- Jimi Layman, Communications Coordinator
Missouri Broadcasters Association:
"Thanks for a really super show. You had the audience in the palm of your hand from start to finish. We appreciate your time and effort. I would not hesitate to recommend your program for any group. Thanks again for a most pleasant evening." -- Ted Griffin, Executive Vice President
Alabama Broadcasters Association:
"Your performance at our Summer Convention was sensational! We greatly enjoyed every phase of your act. You are a great comedian and outstanding ventriloquist. I would like to thank you for the gracious manner in which you mingled with our members, answered questions about your dummies and allowed yourself to be photographed with many of our conventioneers. You are a real pro and a delight to work with in every way. I will be pleased to recommend you to all of the state broadcast directors that I meet in various conferences." -- Ben K. McKinnon, Executive Director
Tactical Air Forces Gala:
Central Florida Chapter, Air Force Association
"The show was absolutely outstanding! Your jokes were perfect and the audience obviously enjoyed every minute of the routine. Accept our gratitude for a superb performance." -- Martin H. Harris, Chairman
USS Enterprise, CVN-65:
"You are without a doubt the best and totally enjoyed entertainment we have ever had. Your show was enjoyable, professional and truly fantastic. The audience of almost 500 crew members and guests were absolutely in stitches. It was a delight to work with someone who provided such a great evening of entertainment. Everyone is still talking about it, and I'm sure it's an event that we will not soon forget. You have our highest recommendation and deep gratitude for a greatly entertaining show and job well done." -- Kevin A. Arseneault, MSC, USN
---
Rating:
DG
For ratings guide, click here.

Based: ..in Florida / based nFlorida