How To Book BOB ALPER and AHMED AHMED For Your Event!
Rabbi Bob Alper and Ahmed Ahmed may be available for your next special event!



"The world's only practicing clergyman doing
stand-up comedy . . . intentionally."
A native of Providence, Rhode Island, Bob Alper graduated from Lehigh University and was ordained as a rabbi at Cincinnati's Hebrew Union College – Jewish Institute of Religion in 1972. He served congregations in Buffalo and Philadelphia, and earned the Doctor of Ministry degree from the Princeton Theological Seminary.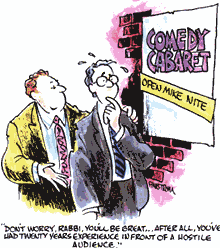 With such impressive credentials, Bob quite naturally decided to embark on a second career as a comedian. He now performs internationally, billed as "the world's only practicing clergyman doing stand-up comedy . . . intentionally." He has appeared on "Showtime," "Comedy Central," "Extra" and ABC's "Good Morning America," plus hundreds of radio programs.
His fresh, contemporary and totally "unorthodox" style of comedy has been delighting audiences around the country. And his unique brand of humor appeals to everyone – from a synagogue crowd to a corporate event to a typical Saturday night comedy club.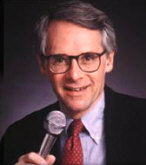 Featured in dozens of newspaper and magazine articles and a frequent guest on television, Rabbi Bob Alper draws tremendous audience response wherever he performs. His act is clean, his humor is gentle, and he is a charming and affable performer. And one more thing – he's funny . . . very, very funny.
Yes, most of his audiences are Jewish, though he also kills at civic, Christian and corporate events. His humor is totally clean, non-threatening, non-controversial and unique! He is charming and affable. He is not a humorist, storyteller or raconteur. He is a stand-up comic!
His material is 95% universal.
Frequently, his weekend performance schedule is quite full. He generally does not perform on Friday nights or during the day Saturday, unless in the context of a synagogue event. He has no problem traveling on the Sabbath, however. He especially enjoys weekday engagements.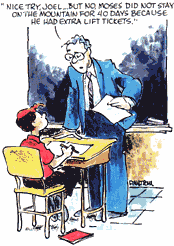 What Others Say about Bob Alper --
YM & YWHA:
Mid-Westchester, Scarsdale, NY
"I warned Bob that he would be facing a tough audience. Central Westchester is culturally saturated, and with New York City just half an hour away, this community has the very best entertainment available 365 days a year. Within 90 seconds he had them laughing, which continued and accelerated for the entire show."


Temple Chai:
Long Grove, IL
"What a pleasure! This event confirmed that the Temple, in addition to being a place of worship, contemplation and education, can also be a place of comity, friendship, and comedy! This event is amongst the largest fund-raisers Temple Chai has had to date, with more than 350 people in attendance."


Israel Bonds:
Pittsburgh, PA
"I have been bombarded with phone calls, stopped on the street, and yes, even approached in the locker room of the JCC by people who wanted us to know what a wonderful time they had . . . In addition to laughing until her cheeks hurt, one audience member said, "You could be sitting next to your grandmother and both could enjoy the show without either being offended."


Jewish Community Center:
Rochester, NY
"Bob Alper's performance last Saturday night was one of those 'magic' nights in theater that every program person prays for and which happens all too rarely. Performer and audience (packed house) melded together to create a 'Laugh-In' and a 'Love-In.' It was wonderful to hear our theater shake with laughter."


Temple Solel:
Scottsdale, AZ
"You got rave reviews! It's been a long time since we had such a successful evening, both from a financial and a social aspect, and a great deal of goodwill was generated for our congregation that night."
---
Also available --
"ONE ARAB, ONE JEW"
Two Very Funny Guys
An Evening of Non-political Laughter
featuring Ahmed Ahmed and Bob Alper
Imagine top-notch comedy featuring two seasoned performers with an implicit, but not preachy, humorous message of healing and understanding.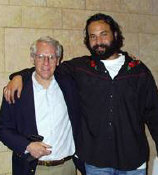 That is what Ahmed Ahmed and Rabbi Bob Alper present - and that is why audiences of Jews, Muslims and Christians find themselves enjoying more than 100 minutes of sustained laughter!
On one August day, similar e-mail inquiries arrived from students at Harvard and students at Johns Hopkins University. They were interested in bringing Ahmed and Bob to their campuses to diffuse tension that had developed between Muslim and Jewish groups and to enhance the friendships that exist between them. The Harvard inquiry came form a Jewish student leader. The Johns Hopkins inquiry came from a Muslim student leader.

Rabbi Bob Alper performs all across North America, London, and even at The Hollywood Improv. As seen on Showtime, Good Morning America, and Extra.

Ahmed Ahmed, Egyptian-born, California-raised, was a guest on ABC's The View, was the subject of a front-page Wall Street Journal article, and appeared in a recent Newsweek. He headlines regularly at comedy clubs across the country.

Bob and Ahmed have received warm, positive recognition internationally, including CNN's "American Morning with Paula Zahn," NPR, BBC, "The Today Show," New York's Newsday, the Los Angeles Times, The San Francisco Chronicle (front page), the Boston Sunday Globe, USA Today, The Hollywood Reporter and an Associated Press article appearing in hundreds of newspapers.

The Alper-Ahmed act has only one rule: no political jokes. Both comedians stay away from each other's religion, though Ahmed makes comparisons. "We don't eat pork, we don't celebrate Christmas, we both say 'Chhh' a lot, and we're both hairy creatures of God."
Bob Alper and Ahmed Ahmed
may be available for your next special event!

Rating:
DG
For ratings guide, click here.

Bob Alper --
Based: ..in US
Based: ..in Vermont / based nVermont
Based: ..in East Dorset / based EastDorsetVT

Ahmed Ahmed --
Based: ..in California / based nCalifornia
Based: ..in Los Angeles / based LosAngelesCA

Tag: xJewish, Jewish comedy, JewishComedy