How To Book Carrot Top For Your Event
Carrot Top may be available for your next special event!



Clad in floral patterned vests and tie dye, looking more like a free-spirit hippie than a comedian, the red-headed Carrot Top has become one of the top entertainers in the country. Whether it's on the screen, stage or via the internet, Carrot Top is on the brink of superstardom.

As for Carrot Top's live show, it has to be seen to be believed. It has evolved into a spectacle of lights, lasers, and music. The evening consists of numerous travel trunks overflowing with bits and pieces of everyday life transformed into creations of reality which everyone can relate to: a Mark Fuhrman belt with a bloody glove attached, a party horn with an inhaler for asthmatics, a briefcase with a credit-card machine attached for O.J. Simpson's lawyers, slippers with bumpers for those nighttime excursions, etc. Each prop is introduced to his captivated audience with a twist of the absurd. With rapid-fire succession, he displays an uncanny accuracy for making people laugh in a carnival-like atmosphere.
Yes, that is his real hair and it's naturally this curly. There are some people who honestly think he went into a salon one day with a normal head of hair and said, "Can you screw it up real bad?", and then paid for it.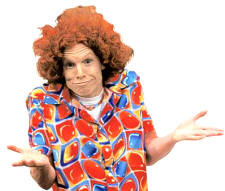 His favorite color is plaid, but he loves all colors and think they should all be worn at the same time. His philosophy on clothing is "Never Match – It's Boring." In case you were wondering, for a brief time he preferred briefs or boxers, but all he can tell you now is "I'm Swinging Like a Pendulum – Swing Low, Sweet Chariot."
He is originally from Cocoa Beach, Florida... Talk about a difficult place to get an education. When you get up, it's really hard making the decision whether to surf or go to school. He went surfing more than he went to school. His father worked for NASA and his brother became a fighter pilot after going to the Air Force Academy on a swimming scholarship, and here he is on stage, swinging around a plastic private body part. Now that's giving his parents something to be proud of !!!
He considers himself pretty strange. Sometimes he reminds himself of the Kennedys. Maybe he is a Kennedy or even an Osmond. Not because of the freckles or the red hair, of course, but because of his big teeth.
As for his transportation, he has a "rot-proof" Carrot-Mobile. And then there are his hundred servants, bowing at his feet. As for the road, what started out as a Yugo and a tackle box has now become 35 fully packed trunks – can't have enough props – in an 18-wheeler, and a tour bus.
Carrot Top would have to say his major comedy influences are Jonathan Winters, (you just look at him and have to laugh), and Robin Williams. Don't forget one of his favorites – George Carlin...the MASTER!
He also loves Garry Shandling. He wants to be like him when he grows up...IF he grows up. He first got to meet him on the "Tonight Show." He later did a part on his show as the "Unwanted Guest" on HBO's year-end roast. He has also made repeated appearances on "Politically Incorrect." Bill Maher is another favorite. He's not afraid to take chances and you are definitely not going to pull anything over on him. Very cutting-edge. And of course what comedian doesn't wish his brain worked like Steven Wright's?
Carrot Top may be available for your next special event!

For more suggestions, proceed to the next page.
Click here --
Comedians Roster
Or, click on one of the below links --
Music Menu
Fast Index
Entertainers Directory
Home