PRINTER FRIENDLY PAGE. To view this artist's HOME page, click or visit: https://www.delafont.com/comedians/Bill-Engvall.htm **
Booking Bill Engvall - Comedians, Actors - © Richard De La Font Agency, Inc. - For serious booking requests only, click here: For More Information
Male Stand-up Comedian of the Year -- 1992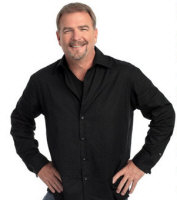 The key to any entertainer's success is the ability to connect with an audience. That quality has made Bill Engvall one of the country's top comedians.
His act encompasses insightful material on a wide range of topics that include kids, family life and animals. However, it is his "Here's Your Sign" signature routine that has garnered him national attention and that his audiences particularly remember and love.
While the stand-up stage has had its own rewards, he also has enjoyed the television stage. He played "Bill Pelton" on NBC's "The Jeff Foxworthy Show." On the show, Bill and Jeff were life-long friends who become reunited when Jeff moves back to an Atlanta suburb with his family. Bill is no stranger to Jeff. Both have performed on the road together, filling arenas and theatres across the country.
A native of Galveston, Texas, Bill moved to Dallas and was working as a disc jockey at a nightclub when he decided to try his hand at stand-up comedy. Although he originally planned to be a teacher, he soon found that making people laugh was really his forte. He moved to Los Angeles to pursue film and television opportunities.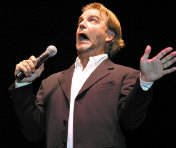 Although he loves television roles, Bill says he would never give up performing live. "When you are doing stand-up live, you achieve an intimacy with the audience you can't get on TV," he says. "There's not a better feeling in the world than when you look out and see the audience is identifying with you. It's wonderful. It's nice when people come up to you and say 'I was having a bad day and you made it worthwhile.' There are enough problems in everyday life. If you can come to my show for an hour and just enjoy life again, then I've done my job."
In 1992 Bill Engvall was nominated for and won the American Comedy Award for Best Male Stand-up Comedian.
Bill Engvall may be available for your next special event.
For booking information, click HERE!
---
To book Bill Engvall for your special event,
contact Richard De La Font Agency, Inc.
For faster service, this is required - click on this link: https://www.delafont.com/contactselect.htm