PRINTER FRIENDLY PAGE. To view this artist's HOME page, click or visit: https://www.delafont.com/comedians/Gary-Mule-Deer.htm **

Booking Gary Mule Deer - Comedians - © Richard De La Font Agency, Inc. - For serious booking requests only, click here: For more information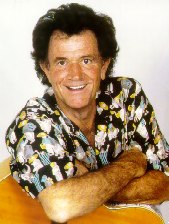 The entertainment career of comedian and musician Gary Mule Deer has spanned a period of more than 30 years. This has included more than 250 television appearances and nearly every major concert stage in the country.

In his early career days Gary and his roommate, Steve Martin, began to write what would be the basis of their comedy acts for years to come. This made them two of the most avant-garde comics around, with their off-the-wall prop humor combined with Gary's guitar and Steve's banjo music.
Steve became a writer-performer on the Smothers Brothers Show and Gary spent the next few years with Epic Records. In 1976 Gary went out on his own as Gary Mule Deer. He began appearing on numerous "Tonight Shows," did regular stints on CBS's "Dinah Shore Show" and was the co-host and off-camera announcer on Don Kirschner's "Rock Concert."
He was now working as a regular at both The Comedy Store and The Improv, and was one of six comedians to appear on the very first HBO comedy special, "Freddie Prinze and Friends."
He appeared in the movies "Annie Hall" and Cheech and Chong's "Up in Smoke" and on more than 100 television shows, including Hollywood Squares, the pilot episode of "Norm Crosby's Comedy Shop" and Steve Martin's specials, "Comedy Is Not Free" and "The Winds of Whoopee."
During this time he had a musical comedy act that consisted of more than 300 pounds of props, 15 audio tapes, and both acoustic and electric guitars. This – combined with his deadpan delivery of offbeat satirical humor and the ability to create absurd situations – sets Gary apart as one of a kind.
Gary became a frequent judge on "The Gong Show" and a regular performer on "Make Me Laugh." He began making many appearances on both "The Tonight Show" and "Late Night with David Letterman."
Gary began entertaining at the major casinos in Las Vegas, Reno, Tahoe and Atlantic City with top country and pop performers, including Roger Miller, Dolly Parton, Kenny Rogers, Willie Nelson, Frank Sinatra, Reba McEntire, Ray Charles, The Judds, Crystal Gayle, Brooks & Dunn and Johnny Mathis.
He has become a regular performer on the Nashville Network, with more than 100 appearances in the past twelve years, including "Nashville Now," "The Statler Brothers Show," "Church Street Station," "Country Kitchen" and "Prime Time Country." He had a regular spot on "Hee Haw" in 1991, where he introduced two new characters, the Right Reverend G.C. Mule Deer and Cactus Jack, Bad Cowboy Poet.
Gary was a headliner in major comedy clubs across the U.S. for more than 25 years and has been a frequent visitor to A&E's "Evening at the Improv." In 1987, he was featured on ABC's "20/20" and in December 1993 on the CBS special "Great Television Moments...What We Watched."
For more than four years Gary Mule Deer toured with Johnny Mathis in concert in major theatres across the country, regularly at Caesar's Palace in Las Vegas, the Tropicana in Atlantic City and at the Royal Albert Hall in London. He also is a favorite at corporate events around the country and is a frequent headliner on Royal Caribbean Cruise Lines.
Although noted for his comedy, Gary gets equally enthusiastic response from audiences as a singer of country music. In addition to his comedic appearance on The Nashville Network, he has appeared on many celebrity outdoor TV fishing shows. He is an avid fly fisherman and golfer, and participates in approximately eight to ten major pro-am and celebrity golf tournaments every year – as well as playing and entertaining at several LPGA and PGA events.
Gary Mule Deer may be available for your next special event.
For booking information, click HERE!
---
To book Gary Mule Deer for your special event,
contact Richard De La Font Agency, Inc.
For faster service, do this first - click on this link: https://www.delafont.com/contactselect.htm
For serious booking requests only - no exceptions.
Thank you for your cooperation.