How To Book Elayne Boosler For Your Event
Elayne Boosler may be available for your next special event!



Elayne Boosler is one of the busiest and most popular comedians touring the country today. She is one of the few comedians who can sell out theaters across the country. Okay, Elayne refers to some of them as "small" theaters, but theaters none the less!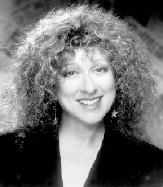 She explains her burning desire to graduate from performing in clubs to performing her one woman concert in theaters thusly: "I really wanted to be able to deliver a full circle, rich evening of entertainment to the audience without distractions, and I also wanted to get off work early enough to be able to get food."
As the very first young, unmarried, dressed-up-for-a-date female comic, she was an instant success with audiences. They were more than ready for a slice of life approach to comedy from a woman, just the way they had accepted it from the new breed of male comics of the time like Robert Klein, Richard Pryor, David Brenner, etc. She did countless appearances on all the talk shows of the day, did countless variety specials and toured the country as the opening act for practically every single musical group in America.
Appearances ran the gamut of performance venues, including playing clubs, 35,000 seat fairs, Las Vegas, Tahoe, concerts, theaters in the round, colleges, Atlantic City, rodeos, speedways, festivals and you name it.
She funded her first special, "Party of One" which aired on Showtime in 1986. People Magazine gave it an 'A'. John J. O'Connor in the New York Times wrote, "....how refreshing, a woman who doesn't have to tear her own skin off for our amusement...an attractive human being simply standing there being funny, the first to feel she doesn't have to be grotesque." HBO immediately announced its new series of specials, "Women of the Night." And suddenly women comedians were everywhere! All kinds. And life was good.
Elayne Boosler may be available for your next special event!

For more suggestions, proceed to the next page.
Click here --
Comedians Roster
Or, click on one of the below links --
Music Menu
Fast Index
Entertainers Directory
Home