How To Book FRANK KING For Your Event!
Frank King may be available for your next special event!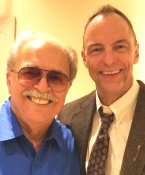 Richard De La Font
with Frank King
Frank King, C.S.P., is sure to make your next meeting a memorable one. More importantly, he will make you, and the entire entertainment selection committee, look good!!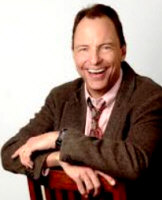 Hire him and forget him. He will arrive at your event early, organized and raring to go!!
He is in demand for engagements as after-dinner speaker, MC, auctioneer, corporate imposter and roaster of the high and mighty in a gentle and funny manner. He is best known for his side-splitting slide show of funny road signs from around the country, which can be customized to most any group.
If you need a laugh, choose from one or more of the following categories:
Topical – Laughs as fresh as today's headlines.
Visual – A sidesplitting slide show of funny road signs from around the country.
Observational – His wacky view of the world is just one bubble of plumb.
In the mid-80's he gave up a successful insurance career, a lovely condo in San Diego, and his first wife (Okay, she dropped him like a bad habit when he quit the insurance gig.), packed his "half" of the community property in his mighty Dodge Colt and hit the road to pursue a career in comedy.
Since then he has been wildly successful. Okay, he's been really successful. All right, he has had his share of success: He was a quarterfinalist on "Star Search" (He lost to a duck puppet! Okay, it WAS a very good puppet.). He has been on Showtime's "Comedy Club Network." He wrote for the "Tonight Show" host, Jay Leno.
Frank has opened up for comedians Jerry Seinfeld, Jeff Foxworthy, Dana Carvey and many others.
Frank King is a Certified Speaking Professional. This designation is conferred throughout the National Speakers Association only on those who have earned it by meeting strict criteria. This indicates a speaking professional with proven experience who understands what is required and knows how to deliver client satisfaction.
His show is outrageous fun!!
What others say --
State of North Carolina:
"Thanks for coming to our Graduation Celebration last night. We laughed. We cried. It was much better than 'Cats'.
I hope a lot of other people will want to have you at their functions after hearing you last night. You were truly FUNNY, and I encouraged as many people as I saw afterward to get in contact with you."
- Leslie Boney, Director of Community Involvement


Ciba-Geigy Corporation, Chemical Division:
"I have had nothing but rave reviews from various employees, including myself. We all could have listened to you for a couple of hours. Your show was in very good taste with no foul language, which of course appeals to the majority of people. Your show was absolutely exceptional!"
- Paula A. Dedering


PYA/Monarch, Food Service Distributors:
"All of our guests were thrilled to have such a pleasant surprise. I think the few speeches that were made (by others) were more memorable for the contrast provided by your wacky presentation. I was particularly impressed with your ability to deliver side-splitting comedy without being offensive. I've received so many calls this week praising this year's banquet and your contribution."
- Paula Parker, Executive Vice President


Babcock & Wilcox, Naval Nuclear Fuel Division:
"The show you recently did for us was a smashing success!! You have gotten rave reviews from everyone I have spoken to since. You have so much energy and presence on the stage, no one could ever sit for very long with a frown on their face. Thank you for all of your time and effort. It was definitely appreciated."
- Martha C. Hamlett


North Carolina Association of Urban Bankers:
"Thank you so much for your motivational performance at our conference. It was a very pleasant surprise for an audience that was expecting another dry, long winded, boring luncheon speaker. The conference planning committee has been told repeatedly that this was the best conference ever, due in large part to your performance."
- James L. Mills, Conference Co-chair


Washington Post:
"He is America's funniest man...in the dark."


Los Angeles Herald:
"It's the most fun you'll ever have with the lights off...well, almost."
Frank King may be available for your next special event!

For more suggestions, proceed to the next page.
Click here --
Comedians Roster | Speakers Roster | Roasters Roster
Fast Index | Home | Search
Or, click on one of the below links --
Music Menu
Fast Index
Entertainers Directory
Home