Greg Proops has hit the big time in Britain, but this San Francisco native still thinks of The City as home. He's a regular on the British hit series "Whose Line Is It Anyway?" – a program seen on Comedy Central that showcases Greg's extraordinary improv talents.
Greg's ability to improvise is well known in the states, but the unique English show gives him an opportunity to strut his stuff to the world. He's truly one of the hottest acts around, with excellent stand-up skills to match his blazing improv wit.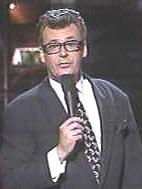 Since his earliest days in stage performance, Greg Proops has excelled in both ensemble and solo settings. Comedy veterans will remember his duo, Proops and Brakeman. Since then he has performed with almost every comedy group in town. His solo stand-up has evolved into a solid, versatile and evocative act that's getting a lot of notice nationwide.
Currently, he is also starring on the hit ABC American version of "Whose Line Is It Anyway?," hosted by Drew Carey. Proops has stepped into cinematic history playing an alien in the highly touted George Lucas film "Star Wars I: The Phantom Menace."

Proops' other television appearances include "3rd Rock From The Sun," "Politically Incorrect" and "The Jamie Foxx Show." He taped a half-hour stand-up special for "COMEDY CENTRAL Presents" and another half-hour special for "The Comedy Store" for British TV.
Greg Proops has played all over the world at many fabulous international comedy festivals such as Montreal's "Just For Laughs," the "U.S. Comedy Arts Festival" in Aspen, Colorado, the "Melbourne International Comedy Festival" in Australia and has sold out the "Edinburgh Fringe Festival" in Scotland five years running. He has performed his groovy stand-up in Ireland, Holland, Turkey and the United Arab Emirates.
Greg Proops may be available for your next special event!
For booking information, click HERE!
Rating:
DG, DPG, DR
For ratings guide, click here.

Born: ..in Arizona / born nArizona
..in Phoenix / born PhoenixAZ
Oct 3, 1959


Raised: ..in California
..in San Carlos / SanCarlosCA

Based: ..in California / born nCalifornia
..in Los Angeles / born LosAngelesCA