How To Book HEYWOOD BANKS For Your Event!
Heywood Banks may be available for your next special event!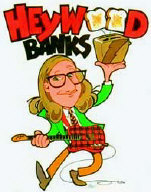 Heywood Banks is an American comedian, and writer and performer of humorous songs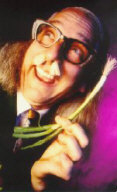 His act is not the normal stand-up act of male-female relationship jokes and audience-member bashing. He intersperses his humorous observations of life with madcap songs containing hilarious lyrics and routines.
Dressed in a plaid jacket and wearing dark-rimmed glasses, he doesn't need off-color jokes to make people laugh. It is a show to which you can bring your kids or your grandmother.
Heywood has been featured in "Rolling Stone Magazine" and "People Magazine." He won First Place in the Johnnie Walker Comedy Search Contest.
Heywood Banks has appeared on A&E's "Evening at the Improv," MTV's "1/2 Hour Comedy Hour," CNN's "Hollywood Minute," "Caroline's Comedy Hour," "Entertainment Tonight," "Showtime Comedy Club Network," "Dr. Demento Show," "12th Annual HBO Young Comedians Special with Paul Rodriguez" and many more.
Also, you may have seen him in the Harmony House television commercials.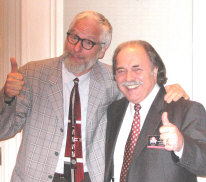 Heywood Banks
with Richard De La Font
What others say --
Laughtrack Magazine:
"Heywood's act is a visual bombardment. Heywood Banks is a geek. One part science lab, one part 'The Day After'. The man is a walking, talking computer error."


Night Sites & Sounds:
"A complete and utter lack of self-consciousness may well be the most descriptive characterization of Heywood Banks. How could anyone who wears an ill-fitting plaid jacket, a tie from hell, one black and one brown shoe, shop glasses and a hairstyle from the LSD Beauticians Academy possibly have any hang-ups about self-image?
Songs are sung with inimitable abandon. Between ditties, he partakes in audience involvement. Heywood's show is well-suited for an entire family's viewing and would be enjoyed by all ages."
-- Eric N. Jansson


Comshare, Inc:
"Your brand of humor is ideal for a business environment – free of ethnic or racial slurs and free of abusive or offensive language. Comshare employees have constantly bombarded me with praise for the fantastic evening of entertainment they experienced at the Kick-Off."
-- Don P. Corfman, Director of Human Resources


Boehringer Mannheim Diagnostics:
"People are still talking about you. It could not have been better. You made each one of them feel good and comfortable with your keen and clean wit! It takes a genius these days to create clean but hilarious material."
-- Karen R. McJunkin, Product Manager


Medi-Span:
"You demonstrate the appeal and drawing power of a comedian who is incredibly funny and whose humor is clean. You confirm the tradition of Red Skelton, Jack Benny, Bob Hope and other great comedians who never needed to shock an audience into laughter through profanity to be successful. You accomplished no mean feat by reaching everyone in the room."
-- Kenneth D. Levy, Director of Marketing


The Battle of Tippecanoe Outdoor Drama:
"We would like to express our delight with your wonderfully funny and outrageous performance. First and foremost, it was funny. Equally as important, it was clean and family-oriented, leaving no one embarrassed.
Personally, I am most appreciative of the professional manner in which you do business, and the easy nature that accompanies your business dealings."
-- Ken Double, Director, Marketing/Public Relations
Heywood Banks may be available for your next special event!

For more suggestions, proceed to the next page.
Click here --
Comedians Roster or Musical Parody Roster
Or, click on one of the below links --
Music Menu
Fast Index
Entertainers Directory
Home