How To Book JAY LENO For Your Event!
Jay Leno may be available for your next special event!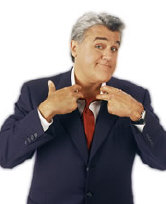 From May 1992 to February 2014, Jay Leno hosted the Emmy Award-winning, top-rated "The Tonight Show with Jay Leno." Before that, he appeared in hundreds of comedy shows around the United States and continues to perform regularly.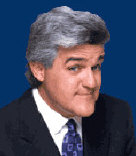 In 1995, Jay traveled to Italy to entertain the troops assigned to the peacekeeping efforts in Bosnia. Widely recognized as a car expert, he drove the pace car in the 1999 Indianapolis 500. He also writes an automotive column for Popular Mechanics magazine.
Jay wrote a book called "Leading With My Chin" and has published four volumes of "Headlines," a popular feature on "The Tonight Show." Proceeds from the book sales go to various charities. Los Angeles is home for Jay and his wife, Mavis.
Jay Leno was named Best Political Humorist by Washingtonian Magazine; A TV Guide named Jay Leno one of the Best Loved Stars in Hollywood; The Tonight Show was named Favorite Television Show in Europe; The Tonight Show can be seen on NBC Super Channel in more than 30 countries in Europe and more than 44 countries worldwide; The Tonight Show received 4 Emmy nominations in 96 (Letterman's Late Show got 3); The Tonight Show's technical/floor crew won the Emmy for technical excellence.
Jay Leno has published numerous books with Headlines and police-jokes (Police blotters). He has also published a calendar filled with Headlines.
He is known as one of the nicest people in show business as well as the hardest working, a winning combination for the man who says, "Anyone can have an ordinary life – exciting careers are hard to come by."
On April 27, 2000 Jay was honored with his own star on Hollywood's Walk of Fame.
Jay's film credits include --
Wag the Dog (1998)
Meet Wally Sparks (1997)
Contact (1997)
Mad City (1997)
Sam Kinison – Why Did We Laugh? (1997)
Lifestyles of the Rich and Famous – Classic Collector's Edition (1997)
Steve Allen's 75th Birthday Celebration (1997)
The Flintstones (1994)
We're Back! A Dinosaur's Story (1993)
Wayne's World 2 (1993)
1984 Los Angeles Comedy Competition (1987)
Collision Course (1987)
Doctor Duck's Super Secret All-Purpose Sauce (1986)
Jay Leno – The American Dream (1986)
Americathon 1998 (1979)
American Hot Wax (1978)
Jay Leno may be available for your next special event!

Rating:
DG, DPG
For ratings guide, click here.

Born: ..in New York / born nNewYork
Born: ..in New Rochelle / born NewRochelleNY
Born: Apr 28, 1950

Raised: ..in Massachusetts / nMassachusetts
Raised: ..in Andover / AndoverMA

Based: ..in US
Based: ..in California / based nCalifornia
Based: ..in Burbank / based BurbankCA

Father:
Italian

Mother:
Scottish