Jeff Altman was born and raised in Syracuse, New York, in an environment which inadvertently lent itself to show business. As an only child, he got way too much attention from his parents, and subsequently, faced a real dilemma with the transition of leaving home and being in school. But Jeff figured out very quickly how to get back the attention by making his classmates and teachers laugh. In fact, most of his elementary school time was spent in a special "Jeff Altman" chair in the principal's office.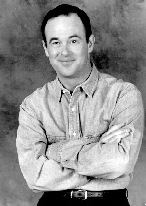 Jeff's first exposure to performing came early in life. His dad was one of the finest sleight-of-hand artists in the country. It wasn't long before his son began to fiddle with cards and coins as well. Today, Jeff considers sleight-of-hand a coveted avocation and he has achieved notoriety for publishing many tricks. Jeff's father also gets credit for teaching his son to play the drums – something Jeff still loves to do.
Deluded by academic aspirations, Jeff spent four years in Baltimore where he managed to graduate from Johns Hopkins University. While there, he not only earned a degree, but also a reputation as a disturbed young man. It wasn't uncommon to see Jeff being escorted out of the Hutzler Reading Room dressed as a bush.
Twice during his college days he visited Los Angeles, spending most of his time at the renown Magic Castle, an exclusive magicians' club in Hollywood. Intoxicated by the West coast, he began to realize that his days as a "scholar" were numbered and soon after graduation, he packed up and made his way to California.
After a six-month tenure at the Magic Castle, he began working at the world-famous Comedy Store. It was here, in its heyday, where he developed a stand-up act and started thinking of himself as a comedian.
It wasn't long before he was tapped for several appearances on "The Merv Griffin Show" and started performing in clubs across the country. "Suddenly, I was rich," recalls Jeff. "I was amazed that I was able to generate an income over $3000 in one year by being a comedian." That wasn't bad. His apartment was only $100/month and sometimes, if he vacuumed the halls, they cut his rent in half.
Jeff's stand-up and acting have come a long way since those days. He appeared regularly on "The Late Show with David Letterman," has guest-starred in dozens of network prime-time shows, such as "Caroline in the City," "Land's End" and "Baywatch," and has produced and starred in two critically-acclaimed SHOWTIME specials – "Jeff Altman's Scrapbook" and "Sweet & Meaty."
He recorded a well-received, live album at the Comedy Store, "I'll Flip You Like a Cheese Omelet" featuring several of his most popular, signature pieces. Film credits include "Highlander II," "American Hot Wax," "Soul Man" and "Easy Money."
Jeff Altman is highly pursued by advertising companies and has appeared in more than 30 national campaigns ranging from Budweiser to Panasonic.