How To Book MARGARET CHO For Your Event!
Margaret Cho may be available for your next special event!



Female Stand-up Comedian of the year - 1994
Margaret Cho is an American stand-up comedian, actress, fashion designer, author, and singer-songwriter. Cho is best known for her stand-up routines, through which she critiques social and political problems, especially regarding race and sexuality. She rose to prominence after creating and starring in the ABC sitcom, All-American Girl (1994–95), and became an established stand-up comic in the subsequent years.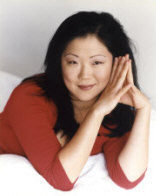 Margaret Cho was born and raised in San Francisco. "It was different than any other place on Earth," she says. "I grew up and went to grammar school on Haight Street during the '70s. There were old hippies, ex-druggies, burnouts from the '60s, drag queens, and Chinese people. To say it was a melting pot – that's the least of it. It was a really confusing, enlightening, wonderful time."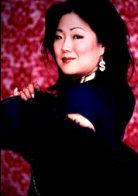 Her grandfather was a Methodist minister who ran an orphanage in Seoul during the Korean War. Ignoring the traditions of her patriarchal culture, her mother bravely resisted an arranged marriage in Korea and married Margaret's father who writes joke books – in Korean. "Books like '1001 Jokes for Public Speakers' – really corny stuff," Cho says. "I guess we're in the same line of work. But we don't understand each other that way. I don't know why the things he says are funny and the same for him."
Cho started performing stand-up at age 16 in a comedy club called The Rose & Thistle above a bookstore her parents ran. Soon after, she won a comedy contest where first prize was opening for Jerry Seinfeld. She moved to Los Angeles in the early '90s and lived in a house with several other young performers.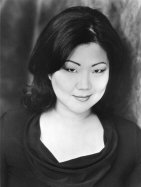 She says, "I moved out because I wasn't the most famous. If the Manson Family had come, I wouldn't have been Sharon Tate; I would have been one of the supporting victims, and who wants that? Janeane Garofalo moved into my old room. Anyway, 'Cho' written in blood on the wall doesn't look as cool as 'Garofalo'."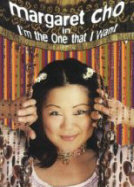 Still in her early twenties, Margaret hit the college circuit, where she immediately became the most booked act in the market and garnered a nomination for Campus Comedian of The Year. She performed more than 300 concerts within two years and subsequently won the American Comedy Award for Female Comedian in 1994. Arsenio Hall introduced her to late night audiences, Bob Hope put her on a prime time special and, seemingly overnight, Margaret Cho became a national celebrity.
Her ground-breaking and controversial, yet short-lived ABC sitcom, "All-American Girl," soon followed. Says Cho: "There were just so many people involved in that show, and so much importance put on the fact that it was an ethnic show. It's hard to pin down what "ethnic" is without appearing to be racist. And then, for fear of being too "ethnic," it got so watered down for television that by the end, it was completely lacking in the essence of what I am and what I do. I learned a lot, though. It was a good experience as far as finding myself, knowing who I was and what direction I wanted to take with my comedy."
Indeed, after the show was canceled, Margaret continued performing to sold-out audiences across the country in comedy clubs, theaters and on college campuses. She was also a guest on every imaginable talk show (including Leno, Letterman, Rosie, Regis, and many others) and programs like "Politically Incorrect," and NPR's "Fresh Air," where intelligence, wit, and political savvy are required. Of her dozen films, John Woo's "Face/Off" with Nicolas Cage, and "Rugrats," where she was the voice of the detective, were probably the most seen.
As one of the most visible Asian American women (and possibly, the funniest) in the country and the first in history to star in her own TV series, her opinions are sought by publications like The New York Times, MODE and Newsweek, and her company is requested by many distinguished entities including the First Family during a recent dinner at The White House with the President of Korea and the First Lady at a New York fundraiser.
Margaret's hit Off-Broadway show, "I'm The One That I Want" garnered incredible reviews and won New York Magazine's Performance of the Year award, a MAC award, and was named one of Entertainment Weekly's Great Performances of the Year. The concert was filmed at The Warfield in her home town of San Francisco and is enjoying all the momentum of the live show.
In addition, Margaret received GLAAD's first-ever Golden Gate Award – honoring her as "an entertainment pioneer who has made a significant difference in promoting equal rights for all, regardless of sexual orientation or gender identity." This year's other honorees are: Elizabeth Taylor, Elton John, Marlo Thomas, Anne Heche, and former CEO of E*Trade, Kathy Levinson. In addition, her E! Celebrity Profile, produced by Tammie Smalls, won a Gracie Allen Award from the American Women in Radio and Television organization acknowledging its "superior quality and effective portrayal of the changing roles and concerns of women."
She says, "I really love the way my life is going right now. I love touring and doing my one-woman show. There's a great lack of different faces out there. I think part of my journey has to be illustrating my experience, showing what you can do. I feel like I've gotten to a great place in my life. I just want to do it for a long time ... at least until the next Korean-American fag-hag, s**t-starter, girl comic, trash talker, comes up and takes my place.
Margaret Cho may be available for your next special event!

For more suggestions, proceed to the next page.
Click here --
Comedians Roster
Or, click on one of the below links --
Music Menu
Fast Index
Entertainers Directory
Home