How To Book RITA RUDNER For Your Event!
Rita Rudner may be available for your next special event!



Best Female Stand-up Comedian -- 1990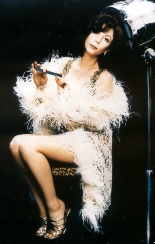 Rita Rudner is a witty stand-up comedian with a pillow-soft voice that just wasn't built for profanity. ("I don't swear. When I do, my husband gets out the tape recorder. Once, when I was first doing comedy, there were only five people in the audience, so I did my whole act swearing every other word. All the waitresses and people at the bar ran in yelling, 'Rita's swearing! Rita's swearing! Everyone come!'")
She and her husband, former BBC comedy writer Martin Bergman, co-wrote Kenneth Branagh's film "Peter's Friends." Their second collaboration, the Bergman-directed "A Weekend in the Country," stars Jack Lemmon, Christine Lahti, Dudley Moore, and Richard Lewis, along with Rudner. She and her hubby have their co-writing system down pat.
"We make each other feel really guilty, and the person who makes the other feel the guiltiest doesn't write. The guilty person sits down and writes until the other person feels really guilty, and then they take over."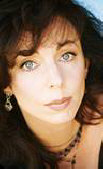 She's proud of her off-camera success, but is frustrated by the lack of worthwhile opportunities in front of the lens.
"Hollywood is a town run by men. A young, beautiful woman has a much better chance than an older, smart, funny woman. I'm trying to do things I'm proud of, which is really what's holding me back. If I would just do any old thing, it would be a lot better for my career."
Rita Rudner has no idea why she leapt from chorus lines to punch lines at age 25, but the former hoofer is glad she did. Today she's the author of two books, "Naked Beneath My Clothes" and "Rita Rudner's Guide to Men," star of numerous HBO specials, including "HBO: One Night Stand," "Born to Be Mild" and "Married Without Children" and the feature films "Peter's Friends" and "A Weekend in the Country."
Just what is it about Rita Rudner? Her quick wit? "Men would like monogamy better if it sounded less like monotony." Her keen insights into the opposite sex? "Men don't feel the urge to get married as quickly as women do, because their clothes all button and zip in the front." Her killer instinct? "Not one man in a beer commercial has a beer belly."
Rita speaks softly and carries a big shtick. Onstage, her act combines shrewd observations about life and the world with a demeanor that makes you want to help her across the street. When she performs live, the mistress of well-heeled understatement puts her unique spin on such topics as marriage, babies, dieting and, of course, men.
Rita made Friars Club history by being the first female comic ever invited to be a "roaster."
David Letterman, Jay Leno, Johnny Carson, Bill Maher, Bob Hope, George Burns, Tom Snyder, Conan O'Brien, Dennis Miller, Martin Short, Regis Philbin and Kathie Lee Gifford have all found Rita amusing. She has appeared on all of their shows.
Sample quotes from Rita Rudner --
I think men who have a pierced ear are better prepared for marriage. They've experienced pain and bought jewelry.

I want to have children, but my friends scare me. One of my friends told me she was in labor for 36 hours. I don't even want to do anything that feels good for 36 hours.

Marrying a divorced man is ecologically responsible. In a world where there are more women than men, it pays to recycle.

Men have an easier time buying bathing suits. Women have two types: depressing and more depressing. Men have two types: nerdy and not nerdy.

Men are self-confident because they grow up identifying with super-heroes. Women have bad self-images because they grow up identifying with Barbie.
Rita Rudner may be available for your next special event!

Rating:
DG, DPG
For ratings guide, click here.

Born: ..in Florida / born nFlorida
Born: ..in Miami / born MiamiFL
Born: Sep 17, 1956

Based: ..in US
Based: ..in Nevada / based nNevada
Based: ..in Las Vegas / based LasVegasNV