How To Book Sinbad For Your Event
Sinbad may be available for your next special event!



Sinbad's name recalls the literary legend that symbolizes strength, adventure and optimism and that is what he strives for. Born in Benton Harbor, Michigan, Sinbad grew up telling jokes to his three brothers and two sisters. The image sticks: Sinbad the wild child, off-the-wall Sinbad who would do anything for attention, free as the wind, an unpredictable force that can't be harnessed, and always willing to pay any price, looking for laughs.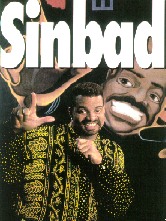 Sinbad doesn't tells jokes – "I don't know any," he admits – instead, he stalks the stage, telling real-life stories. He doesn't deliver payoff lines; he slam-dunks them! His comedy is large, physical, and impetuous. Psychologically, he jams us, poking holes in our lifestyles. His stories mirror our foibles. His is the explosive energy of the neighborhood; his phrasing is manic, musical and right on time. He doesn't write his material, he relives it as he remembers it.
Sinbad made his big screen debut in the 1991 gridiron comedy "Necessary Roughness." His other motion picture credits include starring roles in "Houseguest," "First Kid" and Jingle All The Way" and a cameo in "Coneheads." He was the voice of the canine Riley in "Homeward Bound II." On television, he starred in the title role of the "Cherokee Kid" on HBO, and was the star and executive producer of his own acclaimed Fox TV sitcom, "The Sinbad Show" and "Sinbad's Summer Jam Weekend II" airing on HBO. "Sinbad's Summer Jam" won the prestigious NAACP Image Award consecutively for two years in the "Most Outstanding Variety Series/Special" category.
Sinbad transcended into late night talk with ease, creating quick repartee with any guest. "When you get the opportunity to get into business with someone like Sinbad, you don't pass it up," said Quincy Jones. "He is a veteran performer known for his unique comedic voice and larger than life personality." Sinbad hosted "Vibe" from 1997-98.
Sinbad, who has built a loyal following with sold-out comedy shows and has gone from being one of America's best-loved and funniest comedians to national stardom on television and movies, now brings his observations to the printed page. From love to layaway, parenting to primping, weight loss to the World Wide Web, "Guide To Life (Because I Know Everything)" certainly has something for everyone. This book was published by Bantam Books Hardcover in April 1997 and Mass Market Paperbacks in May 1998.
Sinbad finds time for humanitarian and community services. Working with The Children's Defense Fund and Omega Boys Club has helped him to continue to be more aware of the needs of children. In march of 1996, Sinbad accompanied the First Lady Hillary Rodham Clinton on an official visit to Bosnia and other European stops to provide comic relief to U.S. peacekeeping troops.
Sinbad is as recipient of the Harvard University's 1997 "Artist of the Year" award and the 1994 "Candle" award from Morehouse College honoring his excellence in Arts and Entertainment. With a long-standing interest in technology, Sinbad has served as a spokesperson for the National Action Council for Minorities in Engineering (NACME), which encourages minorities to pursue studies in science, math and engineering.
Film credits include --
Hot Shots, Star
Necessary Roughness 1991, Star
Sinbad - Afros & Bellbottoms 1993, Star
Meteor Man 1993, Star
Houseguest 1995, Star
The Frog Prince 1995, Star
First Kid 1996, Star
Jingle All the Way 1996, Star
The Cherokee Kid 1997, Star
Good Burger 1997, Star
Sinbad may be available for your next special event!

Rating:
DG
For ratings guide, click here.

Born: ..in Michigan / born nMichigan
Born: ..in Benton Harbor / born BentonHarborMI
Born: Nov 18, 1956

Based: ..in US