How To Book Bill Kirchenbauer For Your Event
Bill Kirchenbauer may be available for your next special event!



Bill Kirchenbauer (kirk'-en-bau-er) has a kind face. The kind you have seen a thousand times before on television. He is a boundless, bald teddy bear of energy, who embodies the very essence of everyman. Right now he is one of the most sought-after entertainers on the entertainment event market.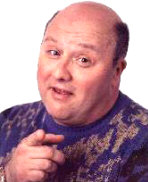 Bill Kirchenbauer's experience with making people laugh goes back to his early childhood. Rumor has it that he sold out sandboxes across the country with his pre-pubescent standup routines. A long run in a variety of schools – his father was in the military – gave him the diversity of experience.
While others studied marketing strategy, Kirchenbauer studied mime, ventriloquism and improvisation, leading up to his winning the first Stand Up Competition in Los Angeles in 1978. Soon after that victory, he appeared on "Late Night With David Letterman" and "The Tonight Show starring Johnny Carson." Carson liked Kirchenbauer so much, he booked him for 10 more appearances!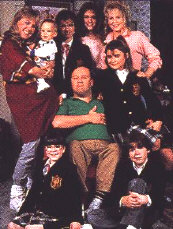 It wasn't long until the television and film industry got wind of this tornado of talent and snatched him up. He proved to be a formidable acting talent, as well.
He has appeared in many film projects, including "Airplane", "National Lampoon" and "Stoogemania," as well as regular starring roles on television series including "Fernwood Tonight," "Mork & Mindy," "Night Court" and "Totally Hidden Video."
It was during the popular television series "Growing Pains" that ABC executives decided it was time for Kirchenbauer to have his own television show, and created "Just The Ten Of Us." It proved to be a ratings hit, and he is now known worldwide as the irascible, lovable "Coach Lubbock."
Bill Kirchenbauer's true love has always been the stage, making live audiences convulse with laughter. After appearances on "The Arsenio Hall Show," "Comic Strip Live," "Evening At the Improv" and hosting "Into The Night," Bill Kirchenbauer made the decision to hit the road.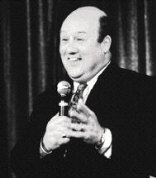 His ability to sell out comedy clubs throughout the country made him a much-sought-after entertainer. However, it is his flexibility that makes him even more desirable. He is one of the few comedians who does well in any situation, with any audience. He has headlined aboard the Royal Caribbean Cruise Lines. The response has been so great he ranked No. 2 in passenger requests (No. 1, of course, was motion sickness pills.)
One of his best talents is the ability to adapt to any entertainment situation. He has an appeal to people of all types and ages. Whether it's serving as master of ceremonies for award presentations, headlining roasts for corporate and private functions, or just as an invited guest add a breath of fresh comedy air to a dull business meeting, he seems to be comfortable anywhere his is invited, and those around him are always comfortable with him.
Bill Kirchenbauer is known for his ability to tailor his act to fit any occasion. He can deftly integrate the company or function into his routines, and his skills as an improviser allow him to run with the ball, no matter what the event.
Whatever your entertainment needs, Bill Kirchenbauer is your man. He is a marketing person's dream.
With nationwide recognition, Bill Kirchenbauer offers to an entertainment event the professionalism and performance appeal that keeps his talents in high demand.
Bill Kirchenbauer may be available for your next special event!

For more suggestions, proceed to the next page.
Click here --
Comedians Roster
Or, click on one of the below links --
Music Menu
Fast Index
Entertainers Directory
Home