How To Book Broderick Rice For Your Event
Broderick Rice may be available for your next special event!



There's funny, there's humorous, there's hilarious, and then there's Broderick E. Rice. This multi-talented Gospel comedian/singer has performed with some of the most notable names in the entertainment industry including the Winans, Vanessa Bell Armstrong, Andrae Crouch, Kirk Franklin and Stevie Wonder.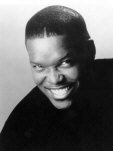 He grew up in Compton, a tough Los Angeles suburb that has produced rap stars (Snoop Dogg), gospel stars (the Rev. James Cleveland) and gang violence. As a boy, he says, he saw a young man being beaten with golf clubs. "I saw men driving down our street, with guns pointed out the windows."
Broderick Rice also saw a lot of action at a giant, 3,000-member Baptist church, where his dad was assistant pastor for 18 years. "That was the place to be." He started singing there as a preschooler and continued, with his mother's urging, through all the choirs.
He also tried Longview City College, with no quick route to graduation. "I turned that into a career," he said. That was where he became friends with Tommy Mikal Ford, who went on to a successful career as an actor ("Martin") and comedian.
Broderick Rice also wanted a comedy career, but he says there was one question: "How do you do something relevant to your own experience, when your experience is church?"
The break came in 1987, when he was one of many singers at a large-scale concert. "Nobody knew who I was," he said. Instead of singing, he started to talk and do imitations. "The place went nuts," Rice said. "Ever since that day, I've been a gospel comedian."
"My goal is not just to make you laugh. I want to build you up, to lift you up."
Broderick has appeared on BET's "Teen Summit" and "Screen Score." He has performed on "Lou Rawls Parade of Stars" and has co-hosted the pre-telecast Stellar Awards.
Best known for his powerful and energetic comedic performances, Broderick Rice does vocal impressions of such personalities as Marvin Winans, Luther Vandross, and the legendary Reverend James Cleveland to name a few. This talented performer has a positive message that needs to be heard. It's rare when you find a Christian comedian/singer who has the ability to demonstrate both talents successfully.
Broderick is on a mission to touch, electrify, and entertain through his anointed talent of comedy and music. He has a special ability to communicate with young people. He creatively places emphasis on the power of pursuing God's purpose, vision, and destiny.
Broderick E. Rice brings quality and a refreshing view to the Gospel industry. He has a sound combining spiritual funk and R&B with a twist of comedy that always delivers an inspirational and moving message. His greatest appeal is his ability to capture, entertain, and inspire a diverse audience through this comedic talents and powerful singing voice.
He has performed for, with and among such names as actor Tommy Ford from the hit t.v. comedy "Martin", Gladys Knight, Isaac Hayes, Gospel Phenom Kirk Franklin, Donnie McClurkin, Yolanda Adams, Fred Hammond, Smokie Norful, Vicki Winans, Shirley Caesar, Byron Cage, Kurt Carr, Mary Mary, John P. Kee, Trin-i-tee 5:7, BeBe Winans, CeCe Winans, Marvin Sapp, Deitrick Haddon, Israel Houghton, Hezekiah Walker, Tye Tribbett, Donald Lawrence, Kim Burrell, Ne-Yo, John Legend, Brian McKnight, Keyshia Cole, and Alicia Keys, just to name a few.
His first comedy and music album entitled "Broderick E. Rice Alive" debuted at the number 2 spot on the National Gospel Billboard Charts and remained in the top for more than 50 weeks - becoming the only gospel comedian ever to do so. The follow up project "The Preacher's Son" was released in 1997 and once again reached the top 40 on Billboard. "Get Yo Laugh On" reached the top 20 on Billboard and garnered Broderick a "Soul Train Music Award" nomination and Comedian of the Year by the Gospel Music Workshop of America Los Angeles Chapter.
He collaborated musically with John P. Kee on his "Strength" album in 1997 showing another side of his talents. He has also appeared on such television shows Bobby Jones Gospel, The Lou Rawls Parade of Stars, B.E.T. tonight w/ Tavis Smiley and as a special guest on the Trinity Broadcasting Network (TBN).
When Broderick Rice takes the microphone funny happens. From his stories of growing up and getting whippings to his imitations of Bishop T.D. Jakes, Benny Hinn, Dr. Fred Price, Marvin Winans singing the alphabet song, to Bernie Mac preaching and Luther Vandross singing the sermonic solo.

In addition to these accomplishments he is also an author, singer, songwriter, entrepreneur, motivational speaker, and ordained minister.
Notable songs or comedy bits include --
I've Come to Praise His Name
Comedy Bits
Why Do You Break My Heart?
Lord I Love You (With All)
Jesus Will
Jesus Is a Waymaker
Still Use Me
J-Oy
Driving Memories
Medicrational Weave Ministry
Get Yo Laugh On
Holy Gas
Bishop Paul Morton
Precious Memories
Benny Hinn
Driving Saints
Snoop Doggy Dogg Community Church
What others say --
Richard, I want to thank you so much for recommending Broderick Rice for our event on Saturday, December 3rd. Everyone had a wonderful time! Broderick was great and people are still talking about it. WCAO Heaven 600 am was very impressed with his CD. All attendees at the event were quite impressed with his performance. Thanks again to both of you. -- T. Gardner
Broderick Rice may be available for your next special event!

For more suggestions, proceed to the next page.
Click here --
Comedians Roster or Gospel Comedians Roster
Or, click on one of the below links --
Music Menu
Fast Index
Entertainers Directory
Home