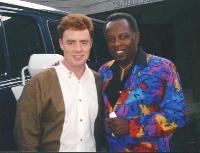 Award winning comedian Chip Chinery (chinn' eh-ree) is an affable guy whose work is observational – looking at the ironic, the weird, the wacky and the inexplicable. He is witty and wonderfully funny. Chip was dubbed "The Best of the Midwest" in the premiere issue of The Comedy Magazine.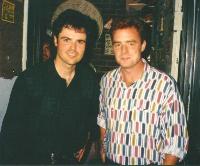 He won an EMMY for "On-Air Performer" in 1993. This was for stand-up, sketches and a man-on-the-street piece that he wrote, produced and performed. In 1994, Chip won his second EMMY nomination. This was for a "Short Subject" that he wrote, produced, edited and performed.
Originally from Ohio, now living in Los Angeles, Chip has performed his clean brand of comedy on A & E's "Caroline's Comedy Hour," "An Evening at The Improv" and "Comedy Central." Besides the Emmy, Chip's long list of awards include Finalist Johnnie Walker Comedy Search, Chicago, 1991 and Washington DC, 1990.
Chip's high-energy 'observational' style of humor looks at the satirical, ironic and absurd idiosyncrasies of everyday life, always hitting home with audiences and leaving them in uncontrollable laughter. Chip has appeared at the MGM Grand Hotel, Bally's Casino, the Tropicana, Atlantic City's Trump Castle, and in concert with Garry Shandling, Lou Rawls, Rosie O'Donnell, Stanley Clarke and Donny Osmond!
His comedy is hip, squeaky clean and current – and his timing is impeccable!
See Chip Chinery on film in . . . .
Space Cowboys
Rocky & Bullwinkle
Dill Scallion
Hear Chip Chinery's voice on . . . .
See Chip Chinery on television on . . . .
3rd Rock From The Sun (recurring role as the maintenance man)
The Man Show
Oh, Baby
Seinfeld
Men Behaving Badly
George Schlatter's Prime Time Comedy
Friends
Mail To The Chief (Wonderful World of Disney Movie of the Week)
The Jenny McCarthy Show
The Tonight Show with Jay Leno (recurring sketch performer)
See more of Chip Chinery on stand-up television on . . . .
Make Me Laugh
An Evening At The Improv
Caroline's Comedy Hour
Comedy On The Road
Stand-Up Stand-Up
Short Attention Span Theater
Johnny Walker Comedy Search
Listen for him on TV! -- He has done voice-overs in commercials for . . . .
ABC
AT&T Wireless
Chevy S-10
Kellogg's K-sentials
Watch for him on TV! -- He has appeared in, or is appearing in commercials for . . . .
Bud Light
Buy.com
Geico Insurance
Hertz Car Rentals
Jack In The Box
Key Bank
KIA
Lincoln-Mercury
NBC
NyQuil
Ocean Spray
OfficeMax
Payday candy bars
Roland Music
Six Flags
UPN
US West
Chip Chinery may be available for your next special event!
For booking information, click HERE!
Rating:
DG
For ratings guide, click here.

Born: ..in Ohio / born nOhio
..in Cincinnati / born CincinnatiOH

Based: ..in California / based nCalifornia
..in Los Angeles / based LosAngelesCA
..in Hollywood / based HollywoodCA