Chris Bliss – A comic, a juggler. Smart and clever. He is a regular on the "Tonight Show" and has been featured on "Entertainment Tonight," "PM Magazine" and MTV's New Year's Eve Ball. Chris opened for Julian Lennon and Michael Jackson on major tours in Europe, Japan and Great Britain.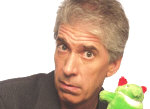 The Washington Post calls his show "simply superb." Playboy noted "Chris isn't just the best at what he does, he's the only one at what he does."
Chris is internationally known as an innovative variety artist. He is recognized for his well-crafted, clean and clever comedy routines. He has appeared on MTV, "A&E's Comedy On the Road," "Evening At the Improv" and "Caroline's Comedy Hour."
He is a can't miss combination: provocative comedy and a taste of Rock 'n' Roll juggling from "The Boss of the Balls!!"
Many people still remember him as the world-class juggler who set his act to music – with black lights and strobes, but no words.
What others say --
Lyondale Petrochemical:
"Ours was a difficult crowd to please but Chris' standing ovation was proof that we selected the right combination of comedian, satirist and juggler." -- Charles W. Graham, Vice President, Sales


New Jersey Travel Association:
"Chris was truly an outstanding act. The audience loved him. I'm sure he was aware of this by the standing ovation he received!" -- Joanne Lombardi, CMP


Event Resource Planners: "Chris was funny, timely and received a standing ovation. We highly recommend him. He's great to work with and sensitive to the needs of corporate clients."
-- Diane Nielson, CMP
Chris Bliss may be available for your next special event!

Rating:
DG, DPG
For ratings guide, click here.

Based: ..in US
Based: ..in Arizona / based nArizona
..in Phoenix / based PhoenixAZ