How To Book DAVID HYDE PIERCE For Your Event!
David Hyde Pierce may be available for your next special event!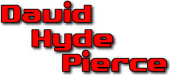 (Niles Crane) "Niles is intelligent, well-dressed and badly married," says David Hyde Pierce, who received an Emmy nomination and a Viewers for Quality Television Award as Best Supporting Actor for his portrayal of the snobbish psychiatrist Niles Crane, brother to the title character on "Frasier."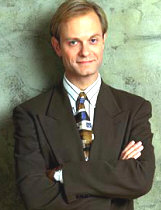 Pierce adds: "Nile's wife, Maris, is cold yet distant, but Niles loves her...probably because she reminds him of his mother. His relationship with Frasier is a mix of sibling rivalry, condescension, passive aggression and brotherly love."
David Hyde Pierce was born on April 3 in upstate New York. He received a B.A. from Yale with a double major in English and theater arts.
In 1981, with degree in hand, he proceeded to New York City and quickly got a job selling ties in Bloomingdale's while he studied acting. He landed his first professional acting job in "Beyond Therapy" on Broadway, followed by stints Off-Broadway and in regional theater. Between 1983 and 1985 he worked in various productions at the Guthrie Theatre in Minneapolis before returning to New York to appear in the New York Shakespeare Festival production of "Hamlet." He interrupted his stage work for a role in his first feature film, "Bright Lights Big City," before departing on a tour of the Soviet Union and Japan in "The Cherry Orchard," from 1988 to 1989.
The big break for David Hyde Pierce came when he appeared on Broadway in "The Heidi Chronicles" for six months, earning him the attention of the media and his peers. More feature roles followed in such films as "Little Man Tate" (as Dianne Wiest's assistant) and "The Fisher King" (as Jeff Bridges' agent). His other feature credits include "Crossing Delancey," "Rocket Gibraltar," "Sleepless in Seattle" (with Tom Hanks and Meg Ryan) Mike Nichols "Wolf" (with Jack Nicholson) and Oliver Stone's "Nixon."
In the spring of 1991 David Hyde Pierce was cast in the former NBC series "The Powers That Be," in which he portrayed Theodore Van Horn, a chronically depressed and suicidal United States Congressman. His additional TV credits include guest-starring roles on the series "Crime Story" and "Spenser: For Hire."
In his leisure time, Pierce enjoys playing piano (he used to be a church organist), skiing and playing tennis. He divides his time between homes in New York and Los Angeles.
David Hyde Pierce may be available for your next special event!