Dick Hardwick proves there is great demand for a comedian who doesn't litter his act with four-letter words. He relies heavily on his Mid-western background for laughs and his paycheck.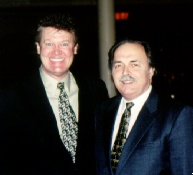 Dick Hardwick
with Richard De La Font
Showing amazing versatility, Hardwick is likely to show up anywhere – a comedy club or a state fair, a corporate event or a television show, a stage as an award-winning musician or a big screen at the local theater, the Grand Ole Opry or the Palladium, a riverboat or a rodeo.
Original and outrageously funny with a charismatic personality that is sought out by Fortune 500 companies, he has had many appearances on television and in film. He was a winner of "Star Search" and of the Entertainment Critics Award for "Best Main Room Opening Act" in Reno, Nevada.
For a buyer, Dick brings a lot of options to the table. He can do an entire show as a stand-up comedian or he can MC a show. He is very fast on his feet when it comes to ad-libbing with a crowd. Also, he can be used as a musician – he plays seven different instruments.
He definitely knows how to do corporate. It is very common for him to perform and have people laughing so hard they are falling out of their chairs. He is just amazing in front of an audience.
What others say about Dick Hardwick --
The Charles Machine Works, Inc:
"Ditch Witch - The Underground Authority"
To the Richard De La Font Agency
"Dick Hardwick was a great success at our company's Christmas party. Everyone is saying this was the best Christmas party we've ever had and Dick helped make it that way. Many people said he had them in tears from laughing so hard. I felt Dick's comedy was perfect for this kind of event. His material was for an adult audience without using four letter words. He was professional and very nice to work with. He also had an interest in our company and how he could fit us into his routine. We are looking forward to having him come back to future events!
-- Amy L. Vincent, Human Resources Dept.
Disneyland:
"A wonderfully creative performer. A man that relates the funny experiences of life in a way that you can relate. Very gifted musician and comedian."
-- Mike Davis, Vice-President, Entertainment Division


International Entertainment Buyers Association:
"Dick was a big hit at our June seminar. He's easy to work with and a genuine nice guy."
-- Reggie Churchwell, President


Avalon Entertainment Group, Inc.:
"We have used Dick Hardwick for everything from a MC for our 13-hour Country-fest concert attended by 250,000 to headlining entertainment for many corporate convention shows. Dick is a great benefit for any company seeking talent with versatility and a performer with the utmost professionalism." -- Greg Janese, President


Bill Medley:
"When it comes to comedy, Dick Hardwick is my soul and inspiration."


Orson Bean:
"I have never failed to see Dick Hardwick reduce an audience to Jell-O. He's great!"
Partial List of Notable Clients of...
Dick Hardwick
| | | |
| --- | --- | --- |
| Assn of Chamber of Commerce Executives | International Dental Association | National and American League All-Star Game |
| Chevrolet Dealers Association | Lincoln Mercury | National Electrical Contractors Assn |
| Chrysler Corporation | Lions Club International | Pepsi-Cola |
| Daiwa | L.A. Credit Union Collection Ass'n | Southwest Airlines |
| The Family Channel | McDonnell-Douglas | State Farm Insurance |
| Fitzgerald's Motel & Casino, Reno | Metropolitan Live | Sunkist |
| Ford Motor Company | Microsoft | Ted Turner |
| Ford/Lincoln Dealer Association | Mobile Petrochemical Company | TransAmerica Life Companies |
| GTE | Monterey Jazz Festival | UNISYS |
| Hughes Aircraft | National Ass'n of Home Builders | United Cerebral Palsy |
| IBM (Golden Circle) | Nat'l Ass'n of Public Service Administrators | Walt Disney Company |
Dick Hardwick may be available for your next special event!

For booking information, click HERE!

Rating:
DG
For ratings guide, click here.

Based: ..in California / based nCalifornia
..in Orange County / based OrangeCountyCA