How To Book Eddie Griffin For Your Event
Eddie Griffin may be available for your next special event!



Bright and energetic comedian Eddie Griffin, at one time named "the king of hip-hop stand-ups," has won over large audiences with his straight-talking comedy routines, but has reached even more people as an actor, excelling especially in comedic roles, but proving more than capable of dramatic fare as well.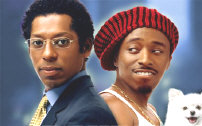 As star of "Malcolm & Eddie," one of UPN's most successful and long-running sitcoms, Griffin was able to try his hand at other facets of the entertainment industry. He served as writer, producer and director of select episodes, as well as co-writing the theme song with co-star and former "Cosby" kid Malcolm-Jamal Warner. The series also occasionally showcased Griffin's choreography, harkening back to his pre-comedy dance career.
At the age of 15, the Kansas City native opened a dance studio. Following a brief teenage marriage and stints in both the US Navy and jail, Eddie Griffin found himself back choreographing before accepting a bet to take the stage at a comedy club – an effort that won him $50 and before long, stardom. The aspiring comedian headed for Los Angeles, where he went on to secure a show at the legendary Comedy Store, and impressed patrons with his perceptions and impersonations. His take on Andrew Dice Clay became particularly well-known and landed Griffin the opening slot on the Diceman's national tour and a part in his concert film "Dice Rules" (1991).
Eddie Griffin also toured with Robert Townsend and The Dells, in a 1991 music and comedy revue to promote Townsend's film "The Five Heartbeats." He would work again with Townsend with a guest spot on his short-lived Fox TV series "Townsend Television" and as co-star of his urban superhero comedy "The Meteor Man" (both 1993). Griffin landed more TV work, appearing on the network's "Roc" as a intimidating hustler in 1993. The following year, he headlined his own CableACE award nominated special, "HBO Comedy Half-Hour: Eddie Griffin." Also in 1994, he proved his acting skills with a memorable performance as Rat in the gripping inner-city set drama "Jason's Lyric," starring Allen Payne. Griffin reteamed with Payne in 1995's "The Walking Dead," both playing African-American soldiers in this Vietnam War drama.
In 1996, Eddie Griffin landed the sitcom role that would make his uniquely expressive face a familiar one in many more American homes. On "Malcolm & Eddie" (UPN, 1996-2000), Griffin portrayed Eddie Sherman, a freewheeling twenty-something tow-truck driver who forges a friendship and later goes into business with polar opposite Malcolm McGee, an aspiring sports commentator. With trademark hats and irrepressible energy, Griffin's characterization of Eddie was a cartoonish take on his own comedy persona minus the profanity and urban edginess, leaving an enjoyably fast-paced, bright and engaging screen presence.
In 1997, Eddie Griffin returned to HBO with the highly-rated, hour-long comedy special "Eddie Griffin: Voodoo Child." The following year he took on a part in the summer action blockbuster "Armageddon," starring Bruce Willis, with whom he had worked seven years earlier in the action vehicle "The Last Boy Scout." Griffin proved his acting skills once again with a part in "Foolish," playing the title character.
Having proved himself on the stand-up circuit and as an actor with varied film roles and a successful television series, Eddie Griffin lensed a spate of films in 1999, including "Picking Up the Pieces," with Woody Allen and Sharon Stone, "Deuce Bigalow," starring Rob Schneider, and "The Second Coming of Sammy," starring as a homeless man with the gift of prophecy. These roles added to Griffin's stand-up career (with two albums already under his belt) and his thriving sitcom work. Skills and experience, both as an actor and in various behind-the-scenes capacities, would promise the young performer a prosperous future.
Eddie Griffin may be available for your next special event!

For more suggestions, proceed to the next page.
Click here --
Comedians Roster
Or, click on one of the below links --
Music Menu
Fast Index
Entertainers Directory
Home