George Lindsey died May 6, 2012.
He was 83.
For years, George Lindsey's classic portrayal of "Goober" filled hearts with love and laughter. While he may be best known as the "simple" gas station attendant on "The Andy Griffith Show," Lindsey's talents extended well beyond the city limits of Mayberry. In fact, George Lindsey was an established veteran character actor of tremendous range.
After graduation from the prestigious American Theater Wing in New York and the landing of co-starring roles in Broadway musicals, including "All American and Wonderful Town," the Jasper, Alabama, native headed for Hollywood in 1962. He was immediately cast for the film "Ensign Pulver" directed by Josh Logan. Within the next two years, George Lindsey appeared in more than 40 television shows.
His introduction to Andy Griffith in 1964 inspired the creation of the Goober character. George Lindsey co-starred on both "The Andy Griffith Show" and "Mayberry RFD" for more than seven years, firmly endearing himself to an entire nation of viewers.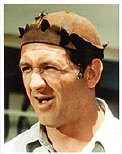 "The Andy Griffith Show" was never out of the Nielsen top ten during its original airing on CBS from 1960-68 and was the top-rated show on television during its last season. Now, the show currently airs in more than 100 U.S. markets. Its longstanding following is evidenced by The Andy Griffith Show Rerun Watchers Club (TAGSRWC), which is one of the most loyal and active fan clubs today, boasting such illustrious members as country superstar Randy Travis and college favorite R.E.M. "Mayberry RFD" ran for three seasons (1967-71) and was a Top Ten program while on the air. Obviously, a television viewers' favorite, judging by the syndication popularity, the "Mayberry Fever" still runs rampant today, supported by a multinational fan club that maintains more than 500 chapters.
In 1971, George Lindsey stopped by the Nashville studios of "Hee Haw" to say hello to friends. The show's producer asked Lindsey to do "a couple of lines" for the taping and a 20-year role on the series was spawned. In May of 1994, George Lindsey starred in the stage production of "Hee Haw Live" at Opryland.
Some of his television appearances included: "M*A*S*H*," "Flo," "Laugh-In," "The Tonight Show," "Merv Griffin," "David Frost," "The Wonderful World of Disney," "Twilight Zone," "Jack Parr," "Gunsmoke," "The Alfred Hitchcock Hour," "Banachek," "CHIPS," "Hollywood Squares," "Kraft Music Hall," "Herbie the Love Bug," and "Mike Douglas".
Lindsey's motion picture credits included: "Cannonball Run II," "The Rescuers," "Take This Job and Shove It," "Robin Hood," "Snowball Express," "The Aristocats," "Charlie and the Angel" and "Treasure of Matacumbe."
A peek into the private side of George Lindsey would reveal a bright and compassionate humanitarian. He raised more than one million dollars for the Special Olympics. He also took pride in the George Lindsey Celebrity Golf Tournament which was held in Montgomery, Alabama, that raised funds to assist thousands of mentally retarded children for 17 years. The George Lindsey Aquatic Center at the Alabama State Hospital for the Mentally Retarded is another of his accomplishments. In 1996, George Lindsey was awarded the prestigious Minnie Pearl Award for his humanitarian contributions.
Born: in Alabama
in Fairfield
Dec 17, 1935
Raised: in Alabama
in Jasper
Died: in Tennessee
in Nashville
May 6, 2012