How To Book Howie Mandel For Your Event
Howie Mandel may be available for your next special event!



The career of Howie Mandel has encompassed virtually every area of entertainment, including television, film and the stage. He has steadily performed as many as 200 concert dates a year, making him one of the most successful comedy stars today.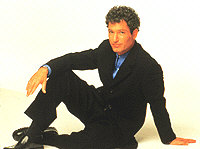 Howie Mandel started his career on a dare during a business trip to Los Angeles in 1979. He was at the legendary Comedy Store on amateur night and after the scheduled performers had finished, he was coaxed by his friends to get up and try his luck. As fate would have it, there was a producer in the crowd that night who hired him on the spot for an appearance on the comedy game show "Make Me Laugh." This led to talk shows, a stint as Diana Ross' opening act and eventually to the television series, "St. Elsewhere," where Howie spent six years as Dr. Wayne Fiscus on the award-winning NBC drama.
Howie's Emmy Award-nominated animated children series, "Bobby's World," ran eight seasons on FOX and now appears in syndication six days a week in 65 countries. As the series' creator and executive producer, Howie Mandel was closely involved in its writing, as well as providing the voice of Bobby, Bobby's dad and other characters. He attributes the show's success to drawing the story lines from real life.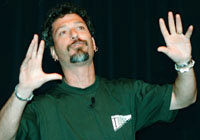 Howie Mandel has also entered the computer age with a series of interactive animated CD-ROM's aimed at educating children, while entertaining them. They include "Tuneland," "Lil' Howie's Great Word Adventure," "Lil' Howie's Great Math Adventure" and "Lil' Howie's Great Reading Adventure." They were an instant success, and have won 36 awards and critical acclaim worldwide.
Howie Mandel has done countless comedy specials both on cable and network television. He has also hosted his own syndicated talk show, "The Howie Mandel Show".
At this time he continues to appear live in concert and on television, as well as working in film and other medium.
Howie Mandel may be available for your next special event!

For more suggestions, proceed to the next page.
Click here --
Comedians Roster
Or, click on one of the below links --
Music Menu
Fast Index
Entertainers Directory
Home