How To Book Jake Johannsen For Your Event
Jake Johannsen may be available for your next special event!



Jake Johannsen is an American comedian. According to Jerry Seinfeld, Jake Johannsen was originally wanted for the role of George Costanza in Seinfeld, but he refused the part. In 2010, Johannsen starred in his second Comedy Special titled I Love You, which aired on SHOWTIME and was directed and produced by The Aristocrats editor, Emery Emery.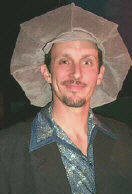 With a subtle and intelligent comedic style, Jake Johannsen is one of the most respected comedians for his ability to give the most common element new meaning. Not many comedians will devote six minutes to a single subject, especially one as seemingly mundane as a toaster or as strange as his conviction that extraterrestrials are working among us.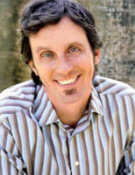 Jake was nominated as "Best Male Stand-Up Comedian" for the 1994 American Comedy Awards. His bizarre take on life has prompted critics to observe that he "conjures up some of the strangest imagery this side of Gary Larsen's comic strip, The Far Side."
He starred in his own HBO Comedy Special titled "This'll Take About an Hour", which premiered to rave reviews. PEOPLE Magazine's 1992 year end issue listed "This'll Take About An Hour" as one of the Ten Best Television Shows, putting Jake in the same company as "The Tonight Show." Jake also received an Ace Award nomination for best writing in an Entertainment Special for his work on "This'll Take About An Hour."
Other television credits include "HBO Young Comedian's Special" and public television's "Comedy Tonight" series. He hosted Comedy Central's "Two Drink Minimum" and has appeared more than thirty times on "The Late Show with David Letterman."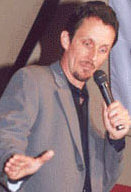 Jake was seen in the Robert Altman produced, Alan Rudolph ("Choose Me") feature film "Mrs. Parker & the Vicious Circle", distributed by Fine Line Features which premiered at the Cannes Film Festival to rave reviews. Jake had a costarring role in a cast that included Mathew Broderick, Jennifer Jason Leigh and Campbell Scott.
Man vs. machine, extraterrestrials and relationships are just some of the eclectic themes that Jake Johannsen reflects upon. If anything is his trademark, according to Johannsen it is his longer, convoluted stories. "I'm talking about things that everybody can relate to and I think I have my own idea of where the problem is. I don't feel I make them deliberately bizarre."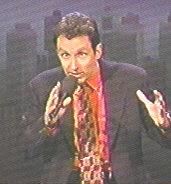 Born in Iowa City, Jake attended Iowa State University in Ames in the early 1980s as a veterinarian major, later changing to chemical engineering. "I started college when the emphasis was on learning something that would get you a job." After three years in college, Johannsen decided to leave the safe confines of Iowa and relocate to San Francisco to be part of the burgeoning comedy scene with such upstarts as Dana Carvey and Bobcat Goldthwait.
Shortly after his west coast arrival, Jake Johannsen made his comedic debut at San Francisco's Cobbs Comedy Club during an open mike night. In 1986, he won the 11th Annual San Francisco Stand Up Comedian Competition. Jake also appeared in the "HBO Young Comedians Special" and on public television's "Comedy Tonight" series. In addition, Jake hosted Comedy Central's "Two Drink Minimum," a half hour series that showcased the freshest faces in stand-up comedy.
Jake Johannsen may be available for your next special event!

For more suggestions, proceed to the next page.
Click here --
Comedians Roster
Or, click on one of the below links --
Music Menu
Fast Index
Entertainers Directory
Home