How To Book KATT WILLIAMS For Your Event
Katt Williams may be available for your next special event!



Actor - Comedian - Recording Artist
Known just as much for his permed hair as he is for his animated performances and quick wit, comedian Katt Williams has been making his mark in Hollywood for more than 10 years. Beginning his career at an age when most teenagers are seeking their driver's license, the young comic quickly discovered that he had a gift for making people laugh.
Inspired by the likes of great humorists such as Richard Pryor, Don Knotts, Eddie Murphy, Bill Cosby, George Carlin, Thomas Marshall, Jeff Foxworthy, Whoopi Goldberg and Dave Chappelle, whom he calls the Malcolm X of comedy, Katt Williams' entertaining standup routines are laying the blueprint for a new generation of comics.
Born in Cincinnati, Ohio, and raised in Dayton, Katt Williams was the product of a socially and politically charged household with an ex-Black Panther for a father. His parents' influence and teachings may have been what caused him to briefly join the Nation of Islam later on in his life while living in the Bay Area. Longing to express his creative side, Katt escaped into his own world, compiling fresh jokes with fresh music and intellect, honing his skills.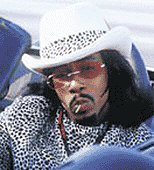 In 1999 Katt became a presence at The Improv, The Comedy Club, The Icehouse and he had his own room at The Hollywood Park Casino where he had a large, loyal following. He has appeared doing stand-up on shows such as Comedy Campus, BETs Comic View, The 2005 and 2006 BET Comedy Awards, BETs Rip the Runway 2006, The 2006 Def Comedy Jam with Dave Chappelle and Mike Epps as well as winning the Cedric The Entertainer's Anheuser-Busch Best Los Angeles Comics Award.
Katt Williams' talent extends over multiple mediums. Known to most for his breakout role in three seasons of the highly-rated MTV show, Nick Cannon Presents Wild N Out, the funnyman has appeared in music videos for everyone from OutKast and Ludacris to E-40 and Lil Kim in addition to landing roles on the small and big screen. Some of his appearances include NYPD Blue, UPNs Girlfriends and Cuts, The Tracy Morgan Show, Wanted, My Wife and Kids and an animated character (A Pimp Named Slickback) on the popular adult cartoon The Boondocks.
Widely recognized for his role as Money Mike in the hit New Line movie Friday After Next, Money Mike also remains the Urban World Wireless ring tone king with the popular Pimp Phone Ringing.
As if those artistic ventures were not enough, he has had his own HBO special: Katt Williams: Pimp Chronicles Pt.1. His DVD is 60 minutes of hilarious new material taped live in Atlanta with guest appearances from Cam'ron, Lil Jon, Snoop Dogg, Andre 3000 and Anthony Anderson, to name a few.
Telling jokes with ease, the stand-up comic/actor wants to conquer the globe's problems with laughter. The current Los Angeles resident has undoubtedly become a fixture on the comedic and Hollywood landscape with more than enough charisma and talent to spare. Possessing the ability to make millions of people laugh, Katt Williams is healing the world one smile at a time.
Katt Williams may be available for your next special event!

Rating:
DR
For ratings guide, click here.

Years active:
1991-present

Born: ..in Ohio / born nOhio
Born: ..in Cincinnati / born CincinnatiOH
Born: Sep 2, 1973

Raised: ..in Ohio / nOhio
Raised: ..in Dayton / DaytonOH

Based: ..in US
Based: ..in California / based nCalifornia
Based: ..in Los Angeles / based LosAngelesCA