How To Book LILY TOMLIN For Your Event!
Lily Tomlin may be available for your next special event!



Lily Tomlin, one of America's foremost comedic entertainers, continues to add to her impressive body of work. She has enjoyed an extraordinary career spanning all facets of the entertainment industry including feature films, television and theatre. Tomlin made her film debut as Linnea, a gospel singer and mother of two 2 deaf children in Robert Altman's "Nashville" (1975). Her performance was so memorable that she was nominated for an Academy Award and voted Best Supporting Actress by both the New York Film Critics and the National Society of Film Critics.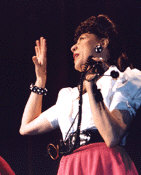 She next starred opposite Art Carney as a would-be actress living on the fringes of Hollywood in Robert Benton's "The Late Show" (1977). With John Travolta, she appeared as a lonely Beverly Hills housewife in "Moment By Moment" (1978). Then teamed with Jane Fonda and Dolly Parton in Colin Higgins' comedy "9 to 5" (1980).
Lily Tomlin starred as the happy homemaker who became "The Incredible Shrinking Women" (1981), directed by Joel Schumacher from a screenplay by Jane Wagner, and the eccentric rich woman whose soul invades Steve Martin's body in Carl Reiner's popular "All of Me" (1984).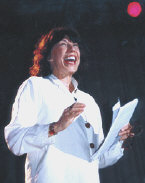 She teamed with Bette Midler in "Big Business" (1988), starred in the film version "The Search for Signs of Intelligent Life In the Universe" (1991), appeared as part of an ensemble cast in Woody Allen's "Shadows and Fog" (1992) and made a cameo appearance in Robert Altman's "The Player" (1992).
Lily Tomlin was born in Detroit, Michigan, and grew up in a working-class neighborhood on the outskirts of one of Detroit's most affluent areas. Although she claims that she wasn't funny as a child, Tomlin admits she "knew who was and lifted all their material right off the TV screen." Her favorites include Lucille Ball, Bea Lillie, Imogene Coca and Jean Carroll, one of the first female stand-ups on "The Ed Sullivan Show."
After high school, Tomlin enrolled at Wayne State University to study medicine, but her elective courses in theatre arts propelled her to leave to become a performer in local coffee houses. She moved to New York in 1965, where she soon built an Improvisation, Upstairs at the Downstairs and Cafe Au Go Go.

In 1966, she made her television debut on "The Garry Moore Show," and in 1969 opened for the legendary Mabel Mercer in the Downstairs memorable appearances on "The Merv Griffin Show," which lead to a move to California where she appeared on "Music Scene."
In December 1969, Lily Tomlin joined the cast of the top-rated "Laugh-In" and overnight rose to national prominence with her characterizations of Ernestine, the sassy telephone operator, and Edith Ann, the devilish five and a half year old.
Between 1973 and 1975, Tomlin co-wrote and starred in four comedy specials. Departing from the usual variety show sketch format, the productions, staged as innovative playlets, won four Emmy Awards and a Writers Guild of America Award.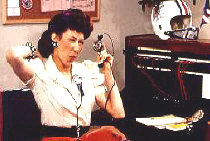 Tomlin's comedy recording debut, "This is a Recording," won a Grammy in 1971. Her subsequent albums "Modern Scream," "And That's the Truth" and "On Stage," have all been nominated for Grammys.
In 1977, Lily Tomlin made her Broadway debut in "Appearing Nitley," written and directed by Jane Wagner. Tomlin won her first Tony Award for "Appearing Nitely," the play that has become the hallmark of the Tomlin/Wagner collaboration.
In addition to such favorites as Ernestine, Edith Ann and Judith Beasley, the calumet city housewife, "Appearing Nitely" introduced Trudy, the bag lady, who later appears in "The Search," Crystal, the hand-gliding quadriplegic, Rick, the singles bar cruiser, Glenna, a child of the sixties and Sister Boogie Woman, a 77-year-old blues revivalist. "Appearing Nitely" was then adapted as both an album and an HBO Special.
The team of Tomlin and Wagner then produced an additional pair of TV Specials, the Emmy-winning "Lily: Sold-Out" (1981) and "Lily for President?" (1982). Tomlin is currently in production on a series of animated specials featuring one of her most popular characters – the precocious five and a half year old, Edith Ann.
Notable comedy bits include --
Monologue/Segue
Mr. Veedle
Obscene Phone Call
Lily and Shopping Bag Lady
Ernestine
Tale of Teen-Age Tyranny
Mrs. Judith Beasley
Repairman
Shopping Bag Lady and UFO Guy
Phone Company Commercial
Lily Tomlin may be available for your next special event!

Rating:
DPG, R
For ratings guide, click here.

Born: ..in Michigan / born nMichigan
Born: ..in Detroit / born DetroitMI
Born: Sep 1, 1939

Raised: ..in Michigan
Raised: ..in Detroit

Based: ..in US
Based: ..in California / based nCalifornia
Based: ..in Los Angeles / based LosAngelesCA