How To Book MIKE EPPS For Your Event!
Mike Epps may be available for your next special event!



Mike Epps grew up between Gary, Indiana, where he spent summers with his grandparents, and in Indianapolis, where he shared a house with eight siblings and his mother. A troublemaking class clown who admitted to spending four months in a juvenile center after a prank involving super glue. He entered a stand-up comedy contest at an Indiana Club called Seville's. His success on stage gave him the courage to strike out on his own and move to Atlanta, where he began making a name for himself at the Comedy Act Theater.

The owner of the club suggested Epps move to New York to build his act, and within a week, Epps caught a Greyhound to Manhattan. He was 21 years old. While breaking into the city's conventional comedy clubs proved difficult, the Def Comedy Jam phenomenon stimulated an underground black comedy scene in which Epps excelled.
By 1995, Mike Epps ended up on the Def Comedy Jam tour and starred in two of HBO's Def Comedy Jam broadcasts. With a stop along the way to appear in actor Vin Diesel's directorial debut "Strays" (1996), Mike Epps was well on his way to becoming one of the bigger names in stand-up.
He appeared in an episode of "The Sopranos" in 1999, the same year the uncommonly handsome comedian learned that Ice Cube was soon to cast his co-star (effectively, Chris Tucker's replacement) in the "Friday" sequel "Next Friday." Epps headed for Los Angeles, where he invited Ice Cube to catch his stand-up set. Impressed, the rapper-actor-producer asked Epps to try out for the part of Day-Day, which he landed after weeks of auditions.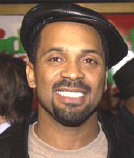 Opening at Number One on the box-office charts, "Next Friday" was a breakthrough for the new actor, who was already familiar to much of the audience from his stand-up work, but still had a hard time winning over those expecting a Chris Tucker clone despite his consistent, though often improvised, performance. Epps' played down his good looks to play the ineffectual Day-Day, a smoked-out loser stalked by his obsessive ex-girlfriend (Tamala Jones) and her brutish younger sister (Lady of Rage). Later that year, he had a cameo in DJ Pooh's "3 Strikes" and supported Jamie Foxx in the action comedy "Bait."
Mike Epps began 2001 with a voice role in the family comedy "Dr. Dolittle 2" and finished the year with a featured role as comical pimp Baby Powder in "How High," starring hip-hop artists Redman and Method Man, the Cheech and Chong of the new millennium. Epps played the bumbling thief to Ice Cube's bounty hunter in the action comedy "All About the Benjamins" and again re-teamed with the rapper-actor-filmmaker in the continuing "Friday" saga's latest entry "Friday After Next" (both 2002).
He continues to successfully tour the comedy circuit and works out at clubs wherever he is filming.
Mike Epps may be available for your next special event.
For a review from an actual customer,
click HERE.

Rating:
DR, DX
For ratings guide, click here.