How To Book Nephew Tommy For Your Event
Nephew Tommy may be available for your next special event!

(aka

Thomas Miles

)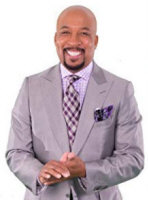 How to Hire NEPHEW TOMMY For Your Event!
Nephew Tommy is an American comedian, actor and producer. He is a member of Kappa Alpha Psi fraternity. He currently co-hosts The Steve Harvey Morning Show during which he frequently makes prank phone calls. He is the nephew of comedian Steve Harvey, which is where his stage name comes from.
Thomas "Nephew Tommy" Miles has built a career that encompasses radio, television, film and more. His role as co-host of the nationally syndicated Steve Harvey Morning Show puts him in front of a live radio audience of more than eight million listeners daily. Nephew Tommy provides a key role in the morning show, lighting it up with his own cast of colorful characters and zany humor. He also has a loyal following as a stand-up comedian; for three years he served as the exclusive opening act for Luther Vandross. For more than four years Miles has been the exclusive host for the Essence Music Festival in New Orleans, which draws more than 250,000 fans and features acts, such as Beyoncé, Janet Jackson, Alicia Keys, Mary J. Blige, Usher, and Kanye West.
In October 2010, Nephew Tommy recorded a one-hour special at the famed Motor City Casino in Detroit.
In 2011, Miles traveled to more than a dozen military bases in the Middle East with the Chairman of the Joint Chiefs of Staff USO Holiday Tour. In December 2013, Miles again toured with the USO. His interaction with soldiers, both stateside and around the world, inspired Miles to establish "Miles of Giving" a non-profit foundation that assists wounded veterans.
Hire Nephew Tommy for your party or event!
Nephew Tommy may be available for your next special event!
Book Nephew Tommy, now!

For more suggestions, proceed to the next page.
Click here --
Comedians Roster
Or, click on one of the below links --
Music Menu
Fast Index
Entertainers Directory
Home