"The Tater"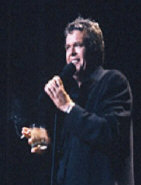 Ron White's comedy is as subtle as a nine-car pileup on the freeway. From Texas (and proud of it), Ron's commentaries come from a decidedly testosterone-laden, good ol' boy point of view. Not afraid to be blunt, he attacks conventional comedy themes with a feisty attitude and a razor-sharp tongue.
He may be obnoxious and warped at times, but his comedy always seems to make perfect sense in the end. Ron White has been headlining comedy clubs all over the country. "He is just gall-durn funny," has been the collective cry.
No one looks at life quite like Ron. His simple observations are insightful and hilarious. He is not for the "under 21" crowd or the chaste of heart. However, for a good time no one does it better than Ron.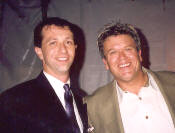 Marc Nelson of the
Richard De La Font Agency
with Ron White
"He's just too funny. I'd headline him in any club in the country."
Mitch Kutash, owner, Improvisations and FunnyBone Comedy Clubs
"He's the hope for the future."
Mark Anderson, owner, Improvisations

"No one makes me laugh harder than Ron."
Jeff Foxworthy, Club Comic of the Year

Note that this is a "DR" rated act.
Ron White may be available for your next special event!
For booking information, click HERE!
Rating:
DPG, DR
For ratings guide, click here.

Born: ..in Texas / born nTexas
..in Fritch / born FritchTX
Dec 18, 1956

Raised: ..in Texas

Based: ..in Georgia / based nGeorgia
..in Atlanta / based Atlanta GA