How To Book Steve Harvey For Your Event!
Steve Harvey may be available for your next special event!



How to Hire STEVE HARVEY For Your Event!
Steve Harvey is one of Hollywood's funniest and most exciting comedians.
Broderick Stephen "Steve" Harvey Sr. (born January 17, 1957) is an American television host, producer, actor, and comedian. He hosts The Steve Harvey Morning Show, Family Feud, Celebrity Family Feud, the Miss Universe competition, Family Feud Africa, and the arbitration-based court comedy, Judge Steve Harvey.

Steve Harvey began his career as a comedian. He performed stand-up comedy in the early 1980s and hosted Showtime at the Apollo and The Steve Harvey Show on The WB. He was later featured in The Original Kings of Comedy after starring in the Kings of Comedy Tour. His last standup show was in 2012.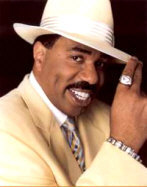 Hire Steve Harvey!
Television fans will remember Steve for his widely-praised role as Steve Hightower in the comedy series "Me and the Boys," which earned him a 1995 People's Choice nomination for Favorite Male in a New Television Series.
He continues his long-standing role as host of the syndicated Saturday night series "Showtime at the Apollo." He starred in his own special, "HBO Comedy Half-Hour: Steve Harvey" and has hosted an episode of HBO's "Def Comedy Jam" and "Dick Clark's New Years Rockin' Eve."
Hire Steve Harvey!
Steve has also added to his many professional responsibilities the role of national spokesperson for Denny's restaurants, which involves participation in the company's television, print and radio campaigns.
In 1993, Harvey made a significant contribution to the comedy circuit when he opened the fourth African-American-owned comedy club in the United States. The Steve Harvey's Comedy House is located in Dallas, Texas.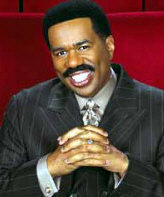 Hire Steve Harvey!
Off screen, Steve Harvey visits youth detention centers and middle schools across the country to speak about the pitfalls of drugs and the importance of setting goals. He is creating an organization called the King Love Center, named after his hero, Dr. Martin Luther King, Jr. He envisions the center as a place young people can visit year-round to learn the importance of a positive mental attitude, character building and making dreams become a reality.
Hire Steve Harvey for your party or event!
Steve Harvey may be available for your next special event!
Book Steve Harvey, now!

Rating:
DPG, DR
For ratings guide, click here.

Born: ..in West Virginia / born nWestVirginia
Born: ..in Welch / born WelchWV
Born: Jan 15, 1957

Raised: ..in Ohio / nOhio
Raised: ..in Cleveland / ClevelandOH

Based: ..in US