Steven Wright – the man with the monotone – a prototype comedian that others are sure to follow. His delivery is deadpan, his manner stoic, and he's the hottest act to catch today, if you can find him when he momentarily lapses into reality.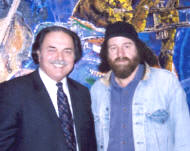 Richard De La Font
with Steven Wright
In appearance, Wright's lifestyle hasn't changed much, although his career has really taken off. In a shorter time than most, he expanded his comedy collection to include an album, video, film and television appearances. His 1986 debut album "I Have A Pony," earned him a Grammy nomination and nods from the music industry.
He quickly followed this with several video showcases on HBO including his own special "On Location: Steven Wright." He took part in the "Young Comedians Special" with Robin Williams, Richard Belzer, Harry Anderson and Howie Mandel. In 1989 Wright was awarded an Academy Award for writing and starring in the short film, "The Appointments of Dennis Jennings."
It seems obvious that comedians are the people to watch in the entertainment industry as they cross over to all mediums with success. PBS honored comedians with a half-hour anthology series starring Steven Wright, Tim Matheson and Catherine O'Hara.
Steven's talents also grace the big screen. He appeared in the 1986 blockbuster "Desperately Seeking Susan" starring Madonna and the Columbia Pictures' film "Stars and Bars" starring Daniel Day Lewis and Harry Dean Stanton.
After his initial appearance on the "Tonight Show with Johnny Carson," he was immediately asked to return one week later – a phenomenon that had not been achieved by an unknown in more than ten years. His back-to-back appearances with the king of late night television put his career into high gear. The dour comedian soon found himself performing his off-beat routines on "Saturday Night Live," "Late Night with David Letterman" and numerous trips back to visit Johnny on the "Tonight Show."
Although Steven Wright's success is now assured, the dry comedian keeps a modest outlook on his ability. As quoted in a Los Angeles Herald Examiner article, he claims, "My whole act is just a funny pack of lies." How true! And how hilarious!
Sample thoughts of Steven Wright (Try to imagine the statements being made in a quiet monotone and with a straight face..) --
"The brain is a wonderful organ.
It starts working the moment you get up in the morning and doesn't stop until you get to work."


"I think I am a peripheral-visionary.
I see into the future – but only on the sides."


"Right now I'm having amnesia and deja vu at the same time.
I think I've forgotten this before."


"You can't have everything.
Where would you put it?"


"I saw a bank that said '24 Hour Banking', but I don't have that much time."


"I had a friend who was a clown.
When he died, all his friends went to the funeral in one car."


"I've been doing a lot of abstract painting lately, extremely abstract.
No brush, no paint, no canvas, I just think about it."


"It's a small world, but I wouldn't want to have to paint it."


"For my birthday I got a humidifier and a de-humidifier... I put them in the same room and let them fight it out. Then I filled my humidifier with wax, and now my room is all shiny."


"I'm writing an unauthorized autobiography."


"I wrote a few children's books... Not on purpose."


"I watched the Indy 500, and I was thinking that if they left earlier they wouldn't have to go so fast."


"I spilled spot remover on my dog. He's gone now."


"When I was a baby, I kept a diary. Recently, I was rereading it. It said, "Day 1 -- Still tired from the move. Day 2 -- Everybody talks to me like I'm an idiot."


"I saw a subliminal advertising executive, but only for a second."


"It doesn't matter what temperature the room is, it's always room temperature."
Steven Wright may be available for your next special event!
For booking information, click HERE!
Rating:
DG, DPG
For ratings guide, click here.

Born: ..in New York / born nNewYork
..in New York City / born NewYorkNY
Dec 6, 1955

Based: ..in US
Based: ..in Massachusetts / based nMassachusetts
..in Boston / based BostonMA