As a writer, producer and actor, Tom Arnold has established himself with both television and film audiences worldwide. He has been honored with the Peabody Award for writing, a Golden Globe Award for writing and producing, and two CableAce Award nominations for comedy writing.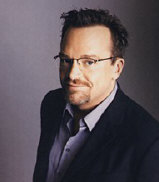 On the big screen, Tom Arnold has starred in the blockbuster hit "True Lies" with Arnold Schwarzenegger, "Nine Months" with Hugh Grant and Julianne Moore, and Paul Schrader's "Touch" with Bridget Fonda and Skeet Ulrich. He also served as co-producer and starred in the Universal film, "McHale's Navy," based on the television series of the same name. His additional film credits include "Coneheads," "Big Bully," "Undercover Blues" and "Austin Powers: International Man of Mystery."
Arnold's television work includes two years writing for the highly successful television series "Roseanne," eventually serving as executive producer of the show. He has starred in three installments of his own HBO special entitled "Tom Arnold: The Naked Truth" and also wrote, produced and starred in two television series, "The Jackie Thomas Show" and "Tom."
An Iowa native, Tom Arnold discovered his gift for writing comedy while studying at the University of Iowa. He later won the Minneapolis Comedy Competition in 1988. Arnold has established a writing scholarship for students at the Indian Hills Community College in his home state of Iowa. He is also very active with the San Diego Children's Center for abused and neglected children.
Tom Arnold may be available for your next special event!
For booking information, click HERE!
Rating:
DG, DPG, DR
For ratings guide, click here.

Born: ..in Iowa / born nIowa
..in Ottumwa / born Ottumwa IA
Mar 6, 1959

Raised: ..in Iowa
..in Ottumwa