How To Book Tommy Davidson For Your Event
Tommy Davidson may be available for your next special event!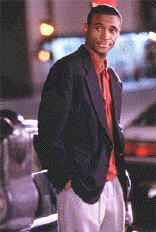 Tommy Davidson is an American comedian, film and television actor. He was an original cast member on the sketch comedy TV show In Living Color.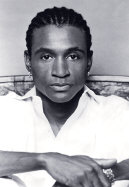 His multi-faceted career started with an impromptu act in a strip club. Since then, Davidson has been entertaining audiences with his outstanding talent in stand-up, television, features and music.
Perhaps best known as one of the original cast members of the hit television show In Living Color, where he came to national prominence with his dead-on impressions of Sammy Davis, Jr. and Michael Jackson, among others, Tommy Davidson soon parlayed his success on television into a flourishing motion picture career.
Raised in Washington DC, Davidson's appearances in local talent showcases quickly led to his opening for such major music stars as Patti LaBelle, Kenny G and Luther Vandross. After relocating to Los Angeles, Tommy Davidson performed at local comedy venues, including the Comedy Act Theatre, where he met writer/directors Robert Townsend and Keenan Ivory Wayans. These allegiances led to the actor/comedian's first national television appearance, a starring role in Townsend's Partners in Crime, and the opportunity to audition for In Living Color.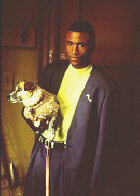 Tommy Davidson subsequently starred in three Showtime specials, an impressive film debut opposite Halle Berry in Strictly Business, a reunion with fellow In Living Color alum Jim Carrey in Ace Ventura: When Nature Calls, and stand-up performances around the world. He is a favorite guest-host of Later on NBC.
Film and Television credits include --
The Scream Team - 2002
Juwanna Mann - 2002
The Making of 'Bamboozled' - 2001
The Proud Family - 2001
Santa Who? - 2000
Baboozled - 2000
Malcolm & Eddie - 1996
Premium Blend - 1997
Pros and Cons - 1999
The Magic Hour - 1998
Woo - 1998
Between Brothers - 1997
Plump Fiction - 1997
Booty Call - 1997
Ace Venture: When Nature Calls - 1995
Mo' Funny: Black Comedy in America - 1993
Yuletide in the 'hood - 1993
6th Annual Soul Train Awards - 1992
Strictly Business - 1992
In Living Color - 1990
Tommy Davidson may be available for your next special event!

For more suggestions, proceed to the next page.
Click here --
Comedians Roster
Or, click on one of the below links --
Music Menu
Fast Index
Entertainers Directory
Home