How To Book Tracy Morgan For Your Event
Tracy Morgan may be available for your next special event!



Tracy Morgan is an American actor, voice actor, and comedian best known for his seven seasons as a cast member on Saturday Night Live (1996–2003) and 30 Rock (2006–2013). He was nominated for an Emmy Award in 2009 for his work on 30 Rock. He has appeared in numerous films as an actor and voice actor.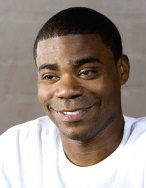 Morgan's recurring Saturday Night Live characters include Bronx resident Dominican Lou, Reggie Owens of "Wong and Owens: Ex-Porn Stars," "Good Morning With Liza!" sidekick Captain Munclair Vanderhousen III, Tate Witherspoon of the tough-talking law firm Russell & Tate, and "Judge Judy" bailiff, Bert. He has performed impressions of Maya Angelou, Marion Barry, Cuba Gooding Jr., Tito Jackson, Star Jones, Marion "Suge" Knight, William "The Refrigerator" Perry, Della Reese, Busta Rhymes, Mr. T, Mike Tyson, Maxine Waters, Thelma Weston, Reggie White, and Tiger Wood's father, Earl.
In January 2000, Tracy Morgan appeared as the main character in a music video for the single "Notorious," which featured Puff Daddy and Lil' Kim.
Morgan's film credits include "Half Baked" (a movie co-starring former SNL cast member, Jim Breuer) and "A Thin Line Between Love and Hate". His television appearances include "Apollo Comedy Hour," "Def Comedy Jam," "Entertainment Tonight," "Martin," "The Rosie O'Donnell Show," "Showtime at the Apollo," "Snaps," "Uptown Comedy Club," and "The View".
Tracy Morgan may be available for your next special event!

For more suggestions, proceed to the next page.
Click here --
Comedians Roster
Or, click on one of the below links --
Music Menu
Fast Index
Entertainers Directory
Home