How To Book Wanda Sykes For Your Event
Wanda Sykes may be available for your next special event!



Comedian and actress Wanda Sykes started out doing stand-up on the road. She went on to make numerous appearances on the big and small screens, and won Emmy nominations for her own stand-up special. In 2010, she brought her intelligent, political humor to the White House, becoming the first African-American woman, and first openly gay comedian, to perform at the White House Correspondents' Association Dinner.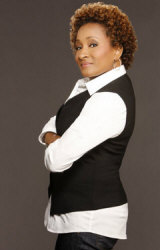 Sykes was born in Portsmouth, Virginia, on March 7, 1964. She grew up in Gambrills, Maryland, near Washington, D.C. Her father, a colonel in the United States Army, worked at the Pentagon, while her mother was a banker. Sykes also has an older brother, Harry. Sykes enjoyed a comfortable middle-class childhood and attended Arundel High School. She went on to get a bachelor's degree in marketing from Hampton University in Virginia before moving on to a government job in the D.C. area. Her position as a procurement officer at the National Security Agency didn't particularly suit her.
As it turned out, Sykes was much better suited for the stage than for government bureaucracy. In 1987, she performed at the Coors Light Super Talent Showcase. She didn't win the contest but it didn't really matter, the audience loved her. More importantly, Sykes had found something that she loved. At 28, she was finally on the road to becoming one of the most recognizable comedians of our day -- someone who presents the world as she sees it, with intelligence and likeability instead of abrasiveness.
The next big step in her life was a move to New York. After five years of playing comedy clubs in the D.C. area, Sykes was ready to quit her day job and make a life in comedy. In the Big Apple, Sykes got her big break when she met the popular comic Chris Rock. She opened for him at Caroline's Comedy Club, and soon joined The Chris Rock Show as a writer, sometimes also stepping into screen roles. Her writing team won a 1998 Emmy for the show, and earned three additional nominations.
From there, it was on to more visible parts in both the movies and television. Sykes first appeared in a feature film in 1998's Tomorrow Night; two years later, she won a role in Nutty Professor II: The Klumps. Her connections with Chris Rock led to her next two parts, in Down to Earth (2001) and Pootie Tang (2001). More recently, Sykes has appeared in My Super Ex-Girlfriend (2006), Clerks II (2006), Monster-in-Law (2006) and Evan Almighty (2007), while also voicing characters in the animated features Barnyard (2006) and Over the Hedge (2006).
Sykes has played recurring characters on several TV shows, including The Drew Carey Show, Curb Your Enthusiasm and The New Adventures of Old Christine. She also did a humorous regular segment on Inside the NFL. When trying to make it on her own in a leading role, however, none of Sykes' projects had much staying power. In 2003, she tried out a sitcom on Fox called Wanda at Large, which ran for two seasons.
Next up was Wanda Does It on Comedy Central, which was a Curb Your Enthusiasm-style fictionalized look at Sykes' life; only six episodes were made before the show was cancelled. Finally, The Wanda Sykes Show, a late night talk show, ran for only the 2009-2010 season on Fox. Sykes says she prefers supporting roles, in which she gets to play a "variation" of herself: "There's times when I'm really shy, so these roles that I get to play, they're how I would love to really be."
Although she's spent significant time on television, stand-up is still in Sykes' blood, and she doesn't intend to let it ever fall by the wayside. She performed her first HBO special, Wanda Sykes: Sick and Tired, in 2006. In 2009, Sykes released another stand-up special, I'ma Be Me. That one earned her Emmy nominations for Outstanding Variety, Music, or Comedy Special and Outstanding Writing for a Variety, Music or Comedy Special.
Even with all of her visible roles, Sykes has succeeded in staying highly protective of her family and personal life. She and her wife, Alex, have twins, Olivia and Lucas, but Sykes won't go so far as to give her wife's last name or even her job. This is Sykes' second marriage; she married record producer David Hall in 1991, just before her move to New York, and they remained married until 1998. Raised in a traditional, religious community, Sykes knew that she was gay, but felt compelled to live life as a straight woman. She experienced the end of her marriage to Hall as a "liberating moment" and began dating women.
Sykes had married Alex, who is French, during the brief period in which California allowed same-sex marriage; the couple held a small ceremony for close family and friends in Palm Springs. But after California's Proposition 8 passed in the November 2008 election, banning same-sex marriage, Sykes decided to lend her celebrity to the cause of marriage equality. After discussing it with her wife, Sykes came out in a speech at a rally in Las Vegas. Since then, Sykes has stayed involved in the political effort to restore same-sex marriage rights in California.
In May 2009 Sykes was selected to perform at the annual White House Correspondents' Association Dinner in the first year of Barack Obama's presidency. In addition to being the first African-American woman to fill the role, she was also the first openly gay person, either male or female. There seems to be no danger of Sykes giving up her biting, personal style of comedy any time soon: "I love doing stand-up, because it gives me the freedom to say what I really want to say. I think that's why it's my favorite thing to do," she said.
Wanda Sykes may be available for your next special event!

Concert Schedule – by Live Nation

Concert Schedule – by Ticketmaster


Born: ..in Virginia / born nVirginia
Born: ..in Portsmouth / born PortsmouthVA
Born: Mar 7, 1965

Raised: ..in Maryland / nMaryland
Raised: ..in Gambrills / GambrillsMD
Raised: ..in Washington, DC area / WashingtonDC

Based: ..in US
Based: ..in California / based nCalifornia
Based: ..in Los Angeles / based LosAngelesCA
Based: and
Based: ..in New York / based nNewYork
Based: ..in New York City / based NewYorkNY
Based: and
Based: ..in Pennsylvania / based nPennsylvania
Based: ..in Philadelphia area / based PhiladelphiaPA
Based: ..in Media / based MediaPA