There are few comedians with the kind of diverse skills as Wil Shriner.
He has stood on all the top stages and made millions of people laugh around the country and around the world.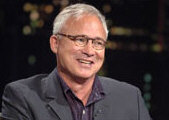 Wil Shriner has made countless appearances on all the top TV talk shows with Johnny Carson, David Letterman, Jay Leno, Larry King, Regis Philbin, Bill Maher, Merv Griffin, and Tavis Smiley.
Here are just a few names of the companies that have chosen Wil Shriner to work with them on making their event a success: Microsoft, Compaq, Radio Shack, RCA, Tiger Electronics, Circuit City, Panasonic, Canon Video, Iomega, WebTV, Mercer Management, Information Week, Optika, EAA, ACEC -- and even Bill Gates.
He has directed dozens of the top TV Programs including Frasier, Everybody Loves Raymond, Becker, My Wife and Kids, The Gilmore Girls, Raising Dad, Married to the Kellys, Ladies Man, Two Guys and a Girl, Luis, Living with Fran, and many more.
Wil Shriner wrote the screenplay for the film HOOT, which is based on a Newberry Award winning children's book by Carl Hiaasen. He also directed and produced the film for Walden Media and New Line Cinema. It was a top 10 film for two weeks running and was released on more than 3000 screens in 2005 and it still runs regularly on television, proving it has a timeless appeal and a message to young people that should not be ignored.
Wil Shriner may be available for your next special event!

Rating:
DG, DPG, DR
For ratings guide, click here.

Born: ..in New York / born nNewYork
..in New York City / born NewYorkNY
Dec 6, 1953

Based: ..in Florida / based nFlorida
..in Fort Lauderdale / based FortLauderdaleFL