"The Magic of Chartier"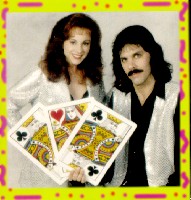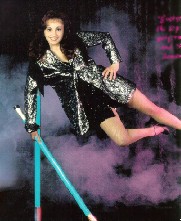 The Magic of Chartier (char'-tee-ay') molds fantasies of the mind into tangible reality, performing cutting edge illusions, including electric levitations, fiery appearances, twisting-the-girl, and more!
The Chartiers bring the astonishment of magic and illusion to audiences from Chicago and New York to Branson and Dallas.
Completely self-contained and mobile, this exciting show can be integrated into any showroom, stage, hotel or convention center.
Smaller groups always enjoy close-up and strolling magic – intricate, sleight of hand with borrowed objects, cards, coins and more. People are fascinated when they participate in close-up magic. It completes parties, business gatherings, fun hospitality suites, or is a great prelude to the illusion show.
Their goal is to satisfy the client and to accommodate special requests. For an add-on feature, they can customize props with the client's logos. They can also incorporate the appearance of a special guest (CEO, guest speaker, etc.)
Show styles available for the Magic of Chartier --
Magic Comedy Show --
one person show, includes hilarious comedy magic intertwined with audience participation, 20-30 minutes

Stand-up Magic Show --
two person show, includes awesome magic combined with interactive comedy and audience participation, 30-40 minutes

Small Illusion Show --
two person show, includes stunning magic, hilarious audience participation, one cutting edge illusion, 30-40 minutes

Large Illusion Show --
two or more person show, includes 3-4 cutting edge illusions, interactive comedy, audience participation, unbelievable magic, costume changes, optional dancers, 45-60 minutes

Grand Illusion Show --
This packs all of the excitement of their large illusion show and features even more spectacular illusions. You will be amazed by a vast array of magical entertainment and illusions including: fiery appearance, suspending on a beam of light, twisting-the-girl and more!! 60-75 minutes
Their clients include Anheuser Busch, PepsiCo, General Motors, Ameritech, Paradigm Communications, Associated Television (FOX network), The Penn Hills Resort of Poconos, Pennsylvania and the Fernwood Resort of Resorts U.S.A.
What others say about the Magic of Chartier --
Suzanne Warden of Paradigm Communications –
"Everyone remarked at the sophistication of the performance, the energy and the showmanship demonstrated."

Donna Patten of Embassy Suites –
"...this was the best holiday show ever!...the illusions were superb!"

A.J. Aumock of Tony's Frozen Pizza –
"...your magical illusions make for one helluva show!"
The Magic of Chartier will captivate your audience members with powerful, fast-paced magic and illusions!
Chartier may be available for your next special event!
For booking information, click HERE!
Rating:
DG
For ratings guide, click here.

Showcase video available.