A dynamic entertainer, Chris Linn can fill a stage with his personality alone. But it is this flair for showmanship that Chris combines with magic, comedy and audience participation to create a fast-paced, award-winning performance that captivates audiences of all ages.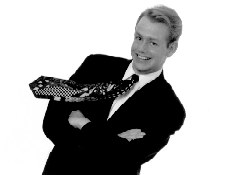 From split-second miracles using everyday objects to elaborate magical routines with talking drawings and other bizarre inventions, Chris' energetic style of magic gets audiences involved. It is a clean, memorable act that leaves people smiling and applauding for more.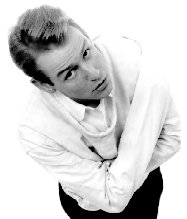 Getting a start in magic at the age of five with a magic kit he received as a gift, Chris quickly developed a knack for making the impossible...possible. At the age of 16, Chris was one of only ten magicians from around the world invited to take part in the first "Lance Burton Magic Challenge" in Las Vegas. Later that year he was awarded the top honors at the world's only magic academy in New York.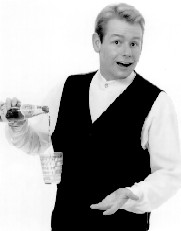 Back in his home state of Michigan, Chris was the youngest performer to receive the award for "Top Michigan Stage Magician." He also produced and co-starred in "Michigan Stars of Magic," a full-evening show that was presented across the state for three years.
Chris prides himself on his ability to diversify his act based on his client's needs. This adaptability has allowed him to thrill more than 13,000 sports fans at The Palace of Auburn Hills with an incredible escape from a straitjacket, and perform as the opening act for The Doobie Brothers, Aaron Neville and comedian/actor Dave Coulier.
His diversity extends beyond his own act and he is often asked to lend a creative hand to a variety of productions and corporate projects. In addition to creating several interactive magic routines for an appearance on "The Vicki Lawrence Show," Chris has provided magical moments for industrial training videos and has created custom magic effects for companies such as Phillip Morris, Inc.
Chris is charismatic, adaptable and memorable. He is the magical answer to your entertainment needs!
Chris Linn may be available for your next special event!
For booking information, click HERE!
Rating:
DG
For ratings guide, click here.

Based: ..in US
Based: ..in Michigan / based nMichigan
..in Rochester / based RochesterMI