At age 12, Dan Birch visited Disneyland's magic shop with his family. His first purchase included a trick with three different length ropes that magically became the same length. It is still a part of his show to this day.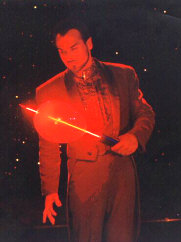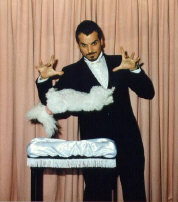 Shortly after this, he read about a trick where the magician showed a single handkerchief and then produced a live white dove within it! This captivated Dan's attention and a career was born! He soon began performing his magical dove show at local parties, banquets and churches in his hometown of Sacramento, California.
At age 16, Dan attempted a career as a race horse jockey that lasted a few years. Due to strict weight regulations of 110 pounds, Dan then decided to return to his original dream, which was a career as a performing magician.
By age 23 Dan was entertaining at many church and social gatherings in Sacramento. By age 28, he was earning a full-time living, performing as an illusionist!
Having created the complete appearance and character of a "real magician," Dan Birch appeared all over the world on luxury cruise ships. He also opened the shows for such great artists as Dana Carvey, Harry Blackstone, Jr., Harry Anderson and had featured roles on the "Columbo" and "Quantum Leap" television shows.
Dan can now be seen headlining regularly at the world's most prestigious nightclub for magicians, "The Magic Castle" in Hollywood, California.
Dan Birch may be available for your next special event!
For booking information, click HERE!
Rating:
DG
For ratings guide, click here.

Based:
..in California

Showcase video available.