PRINTER FRIENDLY PAGE. To view this artist's HOME page, visit: https://www.delafont.com/magicians/Becky-Blaney.htm **
Booking Becky Blaney - Magicians, Illusionists - © Richard De La Font Agency, Inc. - For serious booking requests only, click here: For more information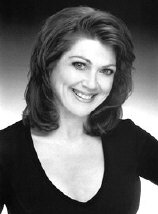 Becky Blaney
---
Magician! Comedian! Magician! Comedian!
Becky Blaney fans might argue among themselves as to whether she is primarily a magician or a comedian. She does both so well that her comedy-magic act is a hit wherever she performs!
She has toured the country and the world, performing on cruise ships and in comedy clubs.
"The magic came first. I've been doing it since the third grade," she explained. "My father is a professional magician (Walter "Zaney" Blaney). Magic has always helped me feel special, but I love comedy, too." Becky was a featured performer in the "Comedy Cabaret" stage revue at the San Remo Hotel in Las Vegas.
She has opened for --
Hootie & The Blowfish
John Anderson
Terri Clark
Asleep At The Wheel
Richard Jeni
Tom Rhodes "Mr. Rhodes"
Ellen De Generes "Ellen"
Drew Carey "Drew Carey Show"
.... and many others!
Her effortless blending of comedy and magic makes for an entertaining time. It won't be long before this talented lady is working in a main showroom with a headliner or possibly headlining her own comedy-magic revue.
Becky Blaney may be available for your next special event. For booking information, click HERE!
---
What others say about Becky Blaney
Columbus:
"America's Carpetmaker"
A division of Columbus Mills, Inc.
"Thank you!! Thank you!! Thank you!! Your wonderful combination of magic and comedy made our reception a success! The official count of attendees by Treasure Island was around 800. Your act had the entire room enthralled -- and laughing! The next day in our Show Space, your magic was a constant topic of conversation all day. Thank you again for your major contribution to the success of the party."
-- Steve Howard

West Texas A&M University:
"Becky Blaney was a pure delight to work with and her show surpassed our expectations.
'Her beauty pageant routine cracked me up,' said one student. 'I used to be in pageants, too, and sometimes you do feel like you have to be Miss Firecracker.'
An education department faculty member commented to Becky after the show, 'You did a wonderful job! Our students really thought you were great!'
With the mood music for her show and all of her high-energy, Becky succeeded in getting the crowd going. Her 'Southern to the Bone' accent and comedy fit right in with the show.
Having worked with other comedians for three years, I can honestly say that I enjoyed working with Becky the most. Many times, comedians just consider it a job to get done, and don't try to have any fun in the process. Becky was the opposite of that standard. I would recommend Becky Blaney to anyone thinking of bringing her to their show – without reservation. They will not be disappointed."
-- Kevin D. Handley
---
Notable Credits of Becky Blaney
Television:
HBO
Statler Brothers Show
Lois and Clark
Evening at the Improv
Comedy Central
To Tell The Truth
Into The Night
Stand-up Comedy:
More than 400 comedy clubs in 50 states and Canada
Film:
"Cool World" with Kim Basinger
Notable Corporate Clients:
HBO
Showtime
Warner Brothers
Shering-Plough
Texas Instruments
Satellite Broadcasting
L'eggs Panty Hose
Cruise Lines:
Norwegian Cruise Line
Holland America
Queen Elizabeth II
Cunard
Special Performances:
Comedy Cabaret -- San Remo
Playboy Girls of Rock and Roll -- Caesars Tahoe
Crazy Girls -- Riviera
Miss Texas -- First Place Winner, Talent
China Acrobat Troupe -- Emcee, two years
Magic Island -- Entertainment Director
Int'l Brotherhood of Magicians -- First Place Winner
Best Magician Award, two consecutive years
U.S. Armed Forces Tour -- Korea
Special skills? Yes -- She does twirling, too!
---
To book Becky Blaney for your special event, contact Richard De La Font Agency, Inc.
For faster service, do this first - click on this link: https://www.delafont.com/contactselect.htm