PRINTER FRIENDLY PAGE. To view this artist's HOME page, visit: https://www.delafont.com/magicians/Chris-Linn.htm **
Booking Chris Linn - Magicians, Illusionists - © Richard De La Font Agency, Inc. - For serious booking requests only, click here: For more information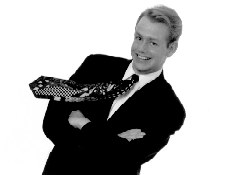 A dynamic entertainer, Chris Linn can fill a stage with his personality alone. But it is this flair for showmanship that Chris combines with magic, comedy and audience participation to create a fast-paced, award-winning performance that captivates audiences of all ages.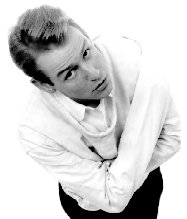 From split-second miracles using everyday objects to elaborate magical routines with talking drawings and other bizarre inventions, Chris' energetic style of magic gets audiences involved. It is a clean, memorable act that leaves people smiling and applauding for more.
Getting a start in magic at the age of five with a magic kit he received as a gift, Chris quickly developed a knack for making the impossible...possible. At the age of 16, Chris was one of only ten magicians from around the world invited to take part in the first "Lance Burton Magic Challenge" in Las Vegas. Later that year he was awarded the top honors at the world's only magic academy in New York.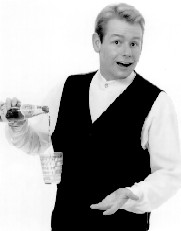 Back in his home state of Michigan, Chris was the youngest performer to receive the award for "Top Michigan Stage Magician." He also produced and co-starred in "Michigan Stars of Magic," a full-evening show that was presented across the state for three years.
Chris prides himself on his ability to diversify his act based on his client's needs. This adaptability has allowed him to thrill more than 13,000 sports fans at The Palace of Auburn Hills with an incredible escape from a straitjacket, and perform as the opening act for The Doobie Brothers, Aaron Neville and comedian/actor Dave Coulier.
His diversity extends beyond his own act and he is often asked to lend a creative hand to a variety of productions and corporate projects. In addition to creating several interactive magic routines for an appearance on "The Vicki Lawrence Show," Chris has provided magical moments for industrial training videos and has created custom magic effects for companies such as Phillip Morris, Inc.
Chris is charismatic, adaptable and memorable. He is the magical answer to your entertainment needs!
Chris Linn may be available for your next special event. For booking information, click HERE!
---
What Others Say About ...
Chris Linn
The Oakland Press:
"Whether it's a show-stopping illusion or the simplest card trick, Linn's showmanship never fails to captivate those watching."
Michigan TasteFest:
"Chris is a first-class act! He continually draws large crowds, and guests were coming back and asking about him even on days he was not performing."
Mary Chris Chapp, Program Director
The Oxford Leader:
"A charming and skilled magician, Linn had the audience in the palm of his hand."
Canadian Arts & Humanities Council:
"An endless source of energy, Chris is destined to become the 'Jim Carey' of magic. Highly recommended!"
Steve Gierke, Chairman
The Express:
"Chris Linn is a highlight for any audience that wants to have fun!"
Comic Relief:
Detroit
"As executive producer of Comic Relief - Detroit, I was thrilled to work with Chris Linn as our magical talent.
Chris' performance brought a relaxed and fun atmosphere to this event. His fabulous magic tricks, coupled with his enthusiasm and quick wit, entertained guests numerous times throughout the evening. His skills as a magician are fine-tuned and his showmanship is truly special.
It was refreshing to work with an entertainer like Chris, who was so willing to give 100% to help make the evening a success. I look forward to working with Chris in the future and certainly recommend him for any project or event."
Dan Sotirovski, Executive Director, Comic Relief - Detroit
---
Notable Credits of ...
Chris Linn
Television and Film:
"City of Magic" -- PBS, 1998
"Share the Magic" -- Hello World Communications, 1995
Special Performances:
Comic Relief -- Detroit, Michigan
Centennial Theater -- Long Island, New York
Reef Club Resort -- Isla Cozumel, Mexico
Second City Comedy Theater -- Detroit, Michigan
Tropicana Hotel -- Las Vegas, Nevada
Notable Clients:
Ford Motor Company
Target Stores
Westin Hotels
DuPont
Weight Watchers
Chrysler Corporation
Ameritech Communications
Hormel Foods
Wal-Mart
GE Automotive
---
To book Chris Linn for your special event, contact Richard De La Font Agency, Inc.
For faster service, do this first - click on this link: https://www.delafont.com/contactselect.htm