PRINTER FRIENDLY PAGE. To view this artist's HOME page, click or visit: https://www.delafont.com/magicians/jeff-mcbride.htm **
Booking Jeff McBride - Magicians, Illusionists - © Richard De La Font Agency, Inc. - For serious booking requests only, click here: For more information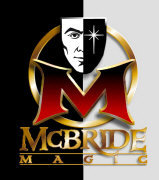 Jeff McBride
Jeff McBride, named Magician of the Year by the Magic Castle in Los Angeles, is recognized as a foremost innovator in contemporary magic and frequently is called "The Magician's Magician." He gives his audiences a mesmerizing performance!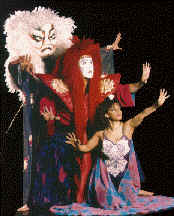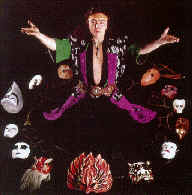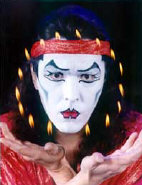 Prior to going solo, Jeff was the opening act of choice for Tina Turner, Diana Ross and other top stars.
For more than twenty years, McBride has journeyed to Asia, India and around the world to study the ancient arts from the masters of the craft. McBride's unique fusion of drama, dance, and sleight-of-hand fused with cutting edge illusion technology leaves his audiences spellbound.
Jeff McBride performed in Las Vegas for "World's Greatest Magicians II" for NBC. Prior to that he completed a special engagement at Hollywood's famed Magic Castle, which ended a fall tour of the newest version of his full evening show throughout the Northeast. He received raves as the featured solo act with The Great Radio City Music Hall Spectacular 1993-1994 National Tour.
His signature fusion of mask, myth, drama and illusion reflects his lifelong study of magic's multi-cultural roots.
Notable credits include --
Television:
A popular international television star, Jeff McBride has performed on dozens of television specials in more than fifteen countries: Star Trek: Deep Space Nine, as Joran – NBC The World's Greatest Magic – PBS Series, "The Power of Magic" – CNBC Dick Cavett Show – CBS "The Magic Mystery School" – HBO's Entertainment Weekly

Concerts:
McBride's spectacular illusion show has headlined many of the world's top theaters and casinos: Radio City Music Hall, New York City – Las Vegas Hilton – Caesar's Palace, Las Vegas – Mikado, Tokyo – Showboat Casino, Atlantic City – The Wintergarden, Berlin

Arts Festivals:
Olympic Arts Festival, Barcelona – London Mime Festival – Hong Kong Arts Festival – Grand Prix of Magic, Monaco

Awards:
Internationally acclaimed for his innovative style, McBride has been recognized by magician societies the world over:
World Magic Summit, Artiste Award, 1995 – Academy of Magical Arts, Magician of the Year, 1994 – International Magic Awards, Stage Magician of the Year, 1993 – Golden Mandrake Award, Best Stage Magic, 1993 – Society of American Magicians, Magician of the Year, 1993 – Grand Prix Magique de Monte Carlo, 1986

Corporate:
McDonalds – IBM – Taco Bell – DuPont – Mont Blanc – Caldwell Banker – and many more!

Lectures and Seminars:
McBride is the founder of the Mystery School of Magic, which offers master classes and performances that explore magical symbolism, myth and ritual in theatre. He has been a keynote speaker on magix and theatre for many international symposiums:
Smithsonian Institute – Society of American Magicians – Disney Institute – International Brotherhood of Magicians
---
Jeff McBride may be available for your next special event! For booking information, click HERE!
To book Jeff McBride for your special event, contact Richard De La Font Agency, Inc.
For faster service, do this first - click on this link: https://www.delafont.com/contactselect.htm
For serious booking requests only - no exceptions. Thank you for your cooperation.